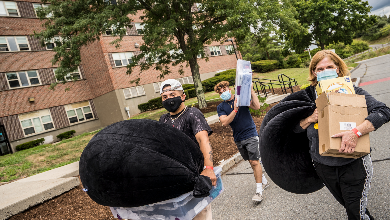 I think most people are going to be safe and aware.
Bridgewater State University students were both excited and nervous last week as they waited in line to get tested for COVID-19 before moving into their residence halls.
"It's definitely different than last year, but not as hard as I thought it was going to be," said sophomore Peter Ciccarello, an aviation major from Sudbury. He's one of approximately 1,300 students who will be living on the campus this fall.
Because of the global pandemic, new measures were put in place this semester for move-in days.
Aside from COVID-19 testing, each student was required to sign up for a specific move-in time and allowed to bring two family members to assist.
During move in, all students and family members were required to wear masks at all times.
"The process is a little bit different, but I'd rather be safe than sorry," said senior Deianeira Underhill, a double major in art studio and art history.
Many of her art classes are hands-on and in-person, which is the main reason she chose not to commute from her home in Rochester.
"It made sense for me to be on campus," she said.
For other students, it didn't matter that most classes will be taught online, they still wanted to live in the residence halls.
"I feel like the campus environment is more conducive for me to do my (school) work," said Marissa Heath, a junior psychology major from Plymouth.
Sophomore Trinh Lazare of Millis chose to live on campus because of the social element.
"I come from a very small town and it was important for me to be closer to my friends and have new experiences," she said. "I will definitely be social distancing…I don't want to pack everything back up in two weeks."
Marissa hopes fellow students follow the physical distancing rules, keep their masks on and avoid large gatherings.
"My fear is others will ruin it for everyone so please make sure you have a mask on and practice social distancing," she said.
Peter Ciccarello feels BSU has done a good job adjusting to the pandemic. He is optimistic that students will follow the rules.
"I think most people are going to be safe and aware," he said.
Trinh agrees.
"I really hope to finish the fall semester living in the dorms and then hopefully come back in the spring when everything will be back to normal," she said.
Do you have a BSU story you'd like to share? Email stories@bridgew.edu