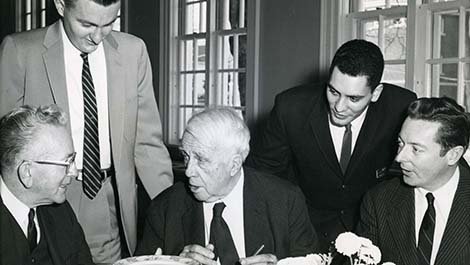 "Bridgewater taught me the importance of researching, and how critical that is in understanding what science is about and what the world is about." 
On a cold December day in 1959, Bridgewater State College student body president David Sousa, '60, drove to Cambridge to pick up the school's featured guest speaker. In the more than one-hour drive to campus, he reveled in conversation with his iconic passenger. Sitting in the passenger seat was world-renowned poet Robert Frost.
"He was interested in me and why I went to Bridgewater, and what it was like," recalled Sousa, who still has a photo of him with Frost that hangs in his Florida home. "It was a wonderful experience."
Sousa, who is ranked as a global guru in the education arena, graduated from Bridgewater with more than the Frost memory. His campus leadership roles, beginning as a freshman, brought the shy boy from Fall River out of his shell. 
Meanwhile, his academic prowess helped the chemistry major receive a fellowship to Harvard University, where he earned a master of arts degree in teaching.
"Bridgewater taught me the importance of researching, and how critical that is in understanding what science is about and what the world is about," he said, specifically praising Professor T. Leonard Kelly for instilling that mindset in students like him.
Sousa, who spent time as a superintendent and high school science teacher, became interested in what would be called educational neuroscience about 40 years ago. New technology allowed researchers to see inside the brain and better understand how it worked. Sousa realized these breakthroughs would help educators more effectively teach.
Classes, he argues, need to be student-centered.
"The brain that does the work is the brain that learns," he said. "In too many classrooms, teachers are doing the work."
Sousa has written books and spoken around the world on the subject. He was even part of the group that named the field educational neuroscience. The Global Gurus ranking recognizes his place among top speakers, trainers and consultants in education.
Sousa has no plans to rest on his laurels, as some schools that prepare future teachers still resist adding educational neuroscience to their curriculum. He strives to change their minds, and knows that for him, as Frost wrote, there are "miles to go before I sleep." 
At Bridgewater, the College of Graduate Studies offers an educational neuroscience applications certificate and Dr. Ahmed Abdelal started a center related to the field. Sousa has donated to his alma mater, making a gift that continues to support educational neuroscience initiatives.
Sousa encourages BSU students pursuing education degrees to think of themselves not as teachers but as brain changers. 
Frost would likely appreciate that openness to redefining an occupation. After all, when faced with two roads diverging in the woods, he famously suggested taking the one less traveled, concluding, "…and that has made all the difference."
Do you have a BSU story you'd like to share? Email stories@bridgew.edu.