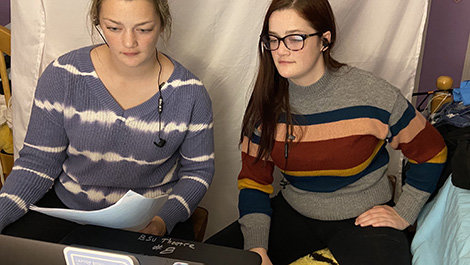 It's almost an escape (from the pandemic). We've waited for so long to start acting.
The COVID-19 pandemic robbed thespians around the world of the work they covet. But, Bridgewater State University actors are using technology to return to the stage – and they're doing it with a new take on an ancient Greek play.
To create Antigone Ablaze, about 30 students and Assistant Professor Sarah Bedard have remade Sophocles' tragedy, Antigone, for modern times, including having characters interact over the internet.
"We've given them a new world," said Erin O'Donnell, '21, a theater major from Hull. "This piece has been something we're really proud of. It's something we've all made together."
Antigone Ablaze began streaming over the internet last weekend and concludes its seven-show run on Oct. 31. The play – like its ancient inspiration – focuses on civil disobedience and portrays a young woman standing up to a powerful leader. Actors perform from their homes or residence hall rooms. In keeping with physical distancing requirements, in-person interaction only happens between roommates or siblings.
"I hope the audience is left with some questions and also left with a sense of empowerment, both from the content of the play and the fact that a group of people got together without actually getting together and created something new," Bedard said. 
Acting virtually requires a different mindset because actors are performing in front of a computer instead of an audience and can see themselves on the screen, said Jordan Daniel Smith, a Bristol Community College graduate in his first semester as a BSU theater major.
"We're all very used to the stage environment," Erin said. "Now, we're in our bedrooms."
But, in other ways, Antigone Ablaze resembles a typical production. Each performance is live (aside from brief prerecorded content). And, actors formed a tight bond despite never being in the same room.
"I've only met three people from the cast in person," said Jordan, who is from Norton and credits the production with helping him toward his goal of becoming a stand-up comedian. "I don't feel any less close to my castmates."
Young actors need to be scrappy to succeed, Bedard said, and participating in Antigone Ablaze shows they can create a production without an in-person audience or even a stage.
"We can put it on our resumes," said Erin's twin sister, Emily. "We're all learning together and all trying to figure it out."
The play is particularly meaningful for Erin and Emily. Although they have acted since middle school, this is the first time their characters will share a stage – or, in this case, a screen – at the same time.
"It's almost an escape (from the pandemic)," Emily said. "We've waited for so long to start acting."
Added Erin: "It feels right to be doing theater again."
Do you have a BSU story you'd like to share? Email stories@bridgew.edu.