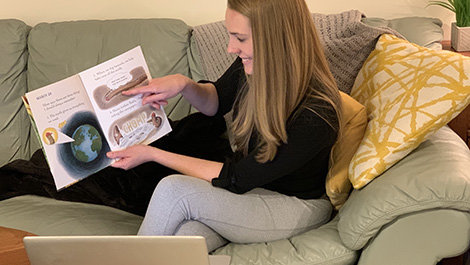 "We're constantly in communication. She's been absolutely amazing. … Stephanie hasn't missed a meeting and is still very much a part of the team."
Jenna Whynock on student-teacher Stephanie Flood, G'20
When public schools closed because of the COVID-19 pandemic, student-teacher Stephanie Flood, G'20, wondered if her experience in Jenna Whynock's first-grade classroom would continue. Fortunately, it turned out even social distancing could not break this mentor-mentee relationship.
Stephanie and Whynock remain connected. In fact, their commitment to their youngsters at Middleboro's Burkland Elementary School landed them a spot in a nationwide virtual event where educators exchanged tips concerning teaching online.
"It was cool to see what they're doing and to be able to share what we're doing," Stephanie said of participating in TeachersConnect's Coronavirus Rx for Ed.
The Middleboro resident is pursuing a master's degree in elementary education. She was enjoying a traditional student-teaching experience before the COVID-19 outbreak, as Whynock eased her into leading the class. Whynock praised Stephanie's ability to listen to feedback and improve.
With schools now closed, Stephanie remains an integral part of the classroom. She participates in video conferences with students and helps plan activities. The teaching duo focuses on reinforcing skills and reading to students through Zoom.
"We're constantly in communication," Whynock said. "She's been absolutely amazing. … Stephanie hasn't missed a meeting and is still very much a part of the team."
Stephanie in turn has a unique experience that prepares her to lead an elementary school classroom. She now knows first-hand the value of developing strong bonds among students and maintaining communication with families. Whynock excels in those areas, and it has made the students' virtual learning experience more successful.
"That's so important as a skill that I'm going to be taking into my professional career," Stephanie said. "When teachers are engaging on a regular basis, there's a much better result."
During remote instruction, Whynock and Stephanie give students more options for classwork. That flexibility is another lesson Stephanie is taking away.
"They're learning how they want," she said. "I'll definitely include more choice in the classroom."
Whynock is confident Stephanie is ready to be an educator.
"We feel very fortunate we had that time (before schools closed)," Whynock said. "She's fantastic and a natural teacher."
Do you have a BSU story you'd like to share? Email stories@bridgew.edu.