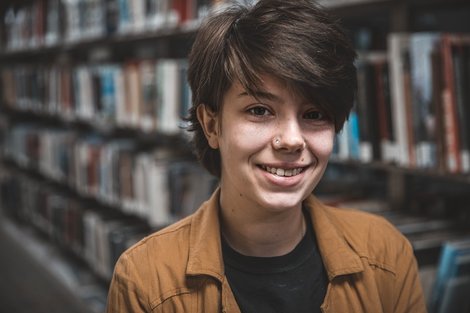 I value the opportunities that I have received as the biggest contributor to my educational goals.
Christina Ouellette, '18, G'20
Story Series
News Feature
As an undergraduate, Christina Ouellette, '18, G'20, saw an opportunity to take an offsite class to pick pumpkins at a local farm. 
The class had been extended to Bridgewater State University recreation majors by Professor Daniel Chase and was intended to get students to expand their thinking about what recreation means.
Christina only saw a great opportunity, not realizing her decision to participate was going to set her on a path where she would flourish.
On the outing, Chase took notice of her ambition.
"He told me that he saw my decision to attend as someone who wants opportunities," she said.
Chase continued to offer Christina opportunities, including working at an afterschool leadership program with at-risk youth at the Carlos Pacheco Elementary School in New Bedford.
 "She has demonstrated great perseverance and initiative," Chase said. "She is a first-generation student and has navigated myriad obstacles in her pursuit of education."
Christina and her three siblings were raised by a single mother in Danvers. Because of financial and other constraints, Christina didn't always believe she could pursue her interests or achieve her goals.
That all changed when she was accepted to Bridgewater.
On top of facilitating the afterschool leadership program, Christina also participated in a service-learning project in Belize where she taught young students and investigated the recreation interests of Belizean youth. Additionally, Christina traveled to Las Vegas to share her findings on the impact alcohol and opioids have on her campus community at the Ethnographic and Qualitative Research Conference.
Her efforts led her to being named the 2018 Massachusetts Recreation and Park Association (MRPA) Outstanding Student of the Year. 
"It wasn't until she attended Bridgewater State University as an undergraduate student that she fully realized her academic strengths," said Dr. Ruth Slotnick, director of the office of assessment.
While pursuing a master's degree in physical education, Christina also works full time as a graduate assistant with Slotnick. Her goal is to eventually work in higher education, where she can provide similar opportunities to students, just as she has been given.
"I value the opportunities that I have received as the biggest contributor to my educational goals," she said. "I've always been self-motivated, but also realize that I can't just be self-motivated. I also need people around me that push me to keep going."
Do you have a BSU story you'd like to share? Email stories@bridgew.edu