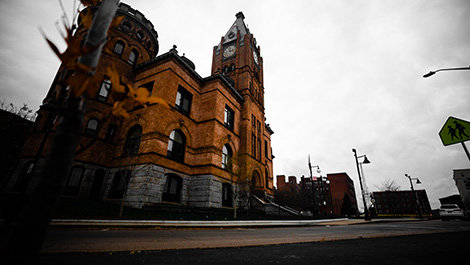 Brockton officials "wanted BSU to play a larger role because of our past successes in leadership in the opioid arena."
Vinny deMacedo, BSU's director of regional partnerships
Fifty Brockton residents lost their lives to opioid overdoses last year. Now, federal funding will allow the city to team with its longtime partner Bridgewater State University to help in the battle against addiction.
BSU will oversee $1.3 million that is part of the federal government's HEALing Communities Study, an effort to identify practices that can be implemented across the country to reduce opioid addiction. The program will also create new internships for BSU students who will directly assist in the project.  
Brockton is one of 67 participating communities aiming to reduce opioid overdose deaths over the next three years by 40 percent. The $1.3 million will be used to hire a coordinator, fund student internships, and take other steps to develop and implement an action plan.
Brockton officials "wanted BSU to play a larger role because of our past successes in leadership in the opioid arena," said Vinny deMacedo, Bridgewater's director of regional partnerships and a proponent of taking action on the opioid front since his days as a state representative. "I felt this was one of the most important issues we as a commonwealth have to address."
Bridgewater has long played a role in responding to the opioid crisis. Administrators serve on task forces and the university was the first higher education institution in the country to make the overdose reversal drug Narcan publicly available across campus.
The problem also strikes close to the BSU community as students cope with family members who are battling or passed away from addiction.
"It's one of the main reasons for Bridgewater to get involved," said Dr. Chris Frazer, executive director of the Wellness Center.
The study, which is led in Massachusetts by Boston Medical Center, will also deliver a direct benefit to BSU students with up to 10 internships per semester. Interns could come from social work, psychology, public health and other disciplines. Their roles could include research and data analysis as well as directly serving partner organizations.
"It gets our students out there in the community," Frazer said. "It builds a pipeline to go out and do really meaningful work." 
Do you have a BSU story you'd like to share? Email stories@bridgew.edu.