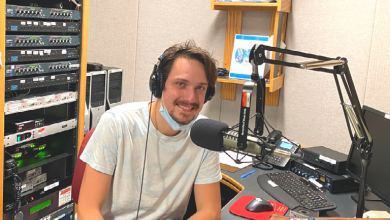 I love Bridgewater and am happy that I will soon be graduating. Going here, I think it's worth every penny I ever spent.
When Tom Crosby graduates this December not only will he have a degree, but something he deems even more valuable: real-world skills he acquired during an internship.
During fall semester, the communications major interned at TIC Network, a radio station that provides human voice(d) broadcasts of local news, articles and items of interest to visually impaired listeners throughout Massachusetts.
"In my personal opinion, it should be necessary for all students to do an internship because of the things you learn; it's so much," Tom said.
Working at TIC wasn't like working at a traditional radio station.
"It's a resource, that's essentially the difference. People rely on the information," Tom said.
As an intern at the Marshfield-based station, Tom was responsible for recording and editing items that included morning updates, horoscope readings, historical pieces and sports. Sometimes that meant reading articles from magazines or newspapers.
Once given an assignment it was up to him to get the material in on time.
"They let me be in charge of my own thing," Tom said. "They allowed me a certain freedom that was really awesome."
Through that sense of responsibility, he gained confidence, which was evident when comparing his first recording to his most recent.
"There is such a difference, the process and editing are so much better," Tom said.
There was some concern, because of COVID-19, that Tom might struggle to find an internship this semester, but those worries soon vanished after working with Carol Crosby, Internship Program assistant director, and Katie Vagen, assistant director of Career Services.
Vagen worked with him to fine tune his resume, and Crosby guided him toward the right internship. 
"They helped me so much," Tom said. "The school in general, I love the resources and facilities."
And while Tom's internship at TIC wasn't paid, it was school-sponsored, which means Bridgewater State compensated him.
"I don't think a lot of students know that. They see an unpaid internship and don't apply. They don't realize you can get sponsored through the school," he said.
Beyond BSU, Tom hopes to pursue a career as a producer in the music industry. He feels confident moving in that direction partially because of the experience he gained as an intern.
"You can go all the way through school, and yes, you get a degree at the end, but you are still lacking in experience, you're still a beginner," he said. "If you can find the time, do an internship. It really only helps you." 
BSU has the resources, Tom said, and he is grateful.
"I love Bridgewater and am happy that I will soon be graduating. Going here, I think it's worth every penny I ever spent," he said.
Do you have a BSU story you'd like to share? Email stories@bridgew.edu