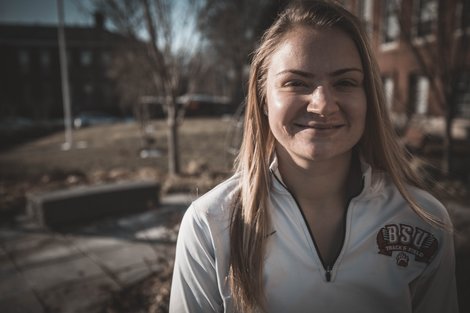 Discomfort is not a state welcomed by many. However, Tess Miller, '20, actually embraces it.
"I like to make myself uncomfortable…I like seeing how far I can go," she said.
The Bridgewater State University senior learned to appreciate a little rough going after last summer completing Officer Candidate School for the Marine Corps.
After she collects her criminal justice degree this May, Tess plans to serve in the Marines and is hoping to work as a military police officer.
The support she's received at BSU has helped get her to this point. In high school, Tess admits she struggled; it's something that continued her first semester at Bridgewater. Her confidence shot, she considered leaving school.
 Thankfully she sought out advice and eventually found her way.
"I found the professors here to be extremely supportive, they helped me academically succeed," she said.
Tess also joined the BSU cross country and track and field team where she currently serves as one of the team's captains.
Head Coach Connor Foley has been impressed with Tess' leadership skills.
"She does a tremendous job of going out of her way to connect with the underclassmen to make sure they feel comfortable," Foley said.  "As a leader, Tess is an asset for our team."
Those skills will come in handy as a Marine.
"At officer candidate school, there is a lot to figure out, whether you can be a leader, if you can give commands," Tess said. "You learn to lead in stressful situations. I'm very comfortable putting myself in positions where I have to make those decisions."
After serving in the Marines, Tess will explore the possibility of a career in law enforcement, possibly with the state police.
"I've always wanted to be a police officer, I think it's the perfect line of work for me," Tess said.
Foley said he has tremendous respect for Tess for joining the Marines.
"I can think of very few people who are better suited for the opportunity to serve our country," he said. "In the future I hope Tess maintains the qualities that have helped her to reach this point in her life. She's hard working, self-motivated, and isn't afraid to face challenges she knows will be good for her in the end."
Do you have a BSU story you'd like to share? Email stories@bridgew.edu