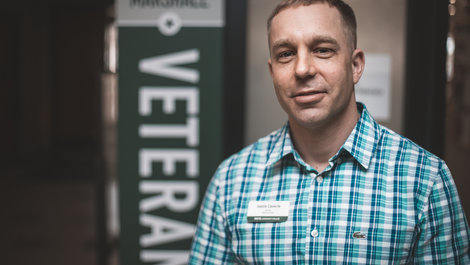 The staff and faculty were really awesome.They really set me up for success in the program and helped me configure all of my classes.
Instead of racing across campus to make it to class on time, Justin Caverio, G '19, used to finish work on the Hanscom Air Force Base then find a quiet spot to join his Bridgewater State University classmates who were sitting in a classroom 46 miles away. They were connected via a live video link.
Through a special arrangement facilitated with the help of his BSU advisers, including Dr. Katherine Bender, Caverio was able to earn his master's degree in student affairs counseling while simultaneously working full-time for the Massachusetts National Guard.
This was prior to COVID-19, where video conferencing wasn't the norm.
Bender, assistant professor in Counselor Education and graduate chairperson for student affairs counseling, said meeting students where they are is key these days.
"Justin is a great example of how the flexibility of our program really allows people to be successful on their own terms," she said.
Caverio has 21 years of active military service, four with the Marine Corps and the rest with the Guard. He began the student affairs counseling program at BSU in 2016, with a goal of graduating in two years. But in 2017, the military called on him to travel to Kosovo, where he led a community outreach program. There, he worked with local teenagers at risk for joining ISIS or falling prey to other forms of extremism.
It so happened Caverio was able to take the information he was learning as a grad student and apply it in real time while performing his military duties.
"I was actually applying it as I learned. It was almost like an unintended internship," he said.
While serving in Kosovo, he also received support from his fellow BSU classmates who sent care packages. Inside were goodies that included a Bridgewater State water bottle and other school-spirited gear.
"It was really cool and one of the reasons I have a special relationship with Bridgewater," Caverio said.
Upon returning home from Kosovo, he knew he wanted to finish graduate school. He picked up where he left off and earned his master's degree in December.
Caverio has since retired from the military, though he isn't completely leaving that part of his life behind. This past January he started a new career as director of the Veteran's Center at Bristol Community College, where he'd earned a degree in 2001. Together he and his team work to support veterans and their family members. Part of his job includes assisting with veteran benefits, but that's not all he does.
"We are not only involved in helping academically and processing benefits for education, but also help student veterans and their families when they actually need it," Caverio said. "We have a really good team and it's fun to work here."
Bender is thrilled to see where Justin has landed and hopes he will be able to advocate for veteran students and build more connections between BCC and BSU.
"I am so proud of Justin for securing this position. He has always been a student with a plan…he wanted to support and advise students in personal and academic and career transitions," she said. "So, while his program of study may have been interrupted, and it may have taken him longer than he wanted, Justin finished his degree and has his dream job."
Do you have a BSU story you'd like to share? Email stories@bridgew.edu