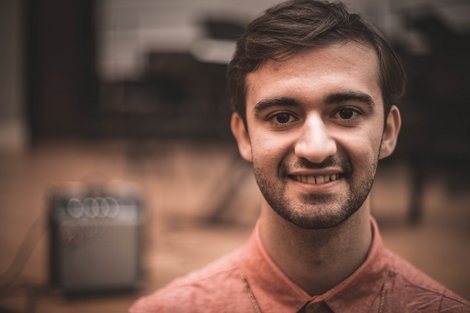 "Becoming a high school teacher is definitely my ideal...but I'm also going to keep making music and see what happens."
While studying to become a teacher, Bridgewater State University junior Eric Santos has evidently stumbled upon a different career path – songwriter.
Under his stage name "Ewreckage," Eric wrote, recorded, edited and produced the album Saudade, which includes the song "Ocean."
The music has been released on the internet.
To his surprise, "Ocean" rose to the number two slot on the iTunes charts in Portugal, right behind Ed Sheeran's "I Don't Care." Meanwhile, Saudade reached the number one spot on the albums chart.
"I thought, 'That's kind of crazy,'" Eric said. "I didn't expect it to get that high."
Since the successful release, he's been in contact with MTV to possibly create a video for "Ocean."
"If all goes according to plan, the goal is to have it debut sometime this year," he said.
When the rising songwriter first arrived on campus, his intention was to be a physical education major. However, his interests soon turned to English.
"I've always enjoyed writing and have been doing it for as long as I can remember," Eric said.
The itch to write can hit him anytime. Eric does much of his writing on campus, sometimes even grabbing a napkin from one of the dining halls to use in place of paper.
"When I have a thought, I find I have to write it down," he said.
He doesn't sing his songs; instead recruiting others for that. But Eric is known to rap and even competed in last semester's on-campus rap battle.
When creating a sound to accompany his lyrics, Eric often turns to some of his favorite artists to find the right vibe. For instance, "Ocean" is built around a sample from the band The 1975.
Other artists and bands that he draws from include Maroon 5 and even his chart mate, Ed Sheeran.
As he rides this wave of success, Eric is working on a second album and sheepishly admits he sometimes writes songs in class.
"I'm not technically goofing off," he said. "I'm doing it during down time."
Eric's professors have also been supportive as he pursues his music career.
"They aren't lenient but do understand that students have a life outside of school," he said. "They teach you life skills, not just classroom work."
Eric hasn't given up on becoming a teacher but will continue to pursue music.
"Becoming a high school teacher is definitely my ideal," he said. "I like being in a school environment. But I'm also going to keep making music and see what happens."
Do you have a BSU story you'd like to share? Email stories@bridgew.edu