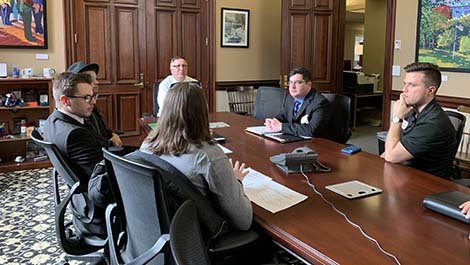 "There are a lot of students who really want change for higher education and they care about it."
Like many Bridgewater State University students, Julia Levine, '22, has more on her mind than writing papers and passing exams. She worries about her family, which is strained financially paying for her mother's medication while covering other necessities.
Julia knows her BSU education will help her better support her family. But, she and other students say degrees need to be more affordable. They recently brought that message to Beacon Hill.
"We're advocating to make sure that senators and representatives do listen and are aware that it is a problem," Julia, an elementary education and history major from Lincoln, Rhode Island, said during a break between meetings with lawmakers. 
BSU students spoke with legislators and staff members representing communities across southeastern Massachusetts during Public Higher Education Advocacy Day. They shared personal stories of working multiple jobs, the importance of internships, and finding a compassionate community at Bridgewater. 
"There are a lot of students who really want change for higher education and they care about it," said Lordina Shalom, '23, a health science major from Worcester.
Students advocated for additional money for financial aid, facility improvements, internships and mental health services. Jack Letsche, '22, who is from Carver, urged legislators to increase funding for disability services for people of all ages.  
"I just want my voice to be heard and I want to take this opportunity to express my concerns and also express the concerns of my constituents from all across the university," said Jack, who, like many of the advocates, serves on BSU's Student Government Association.
Investing in public higher education is about economic development since most graduates of state universities remain in Massachusetts, students emphasized in meetings with lawmakers. 
President Frederick W. Clark Jr., '83, praised their advocacy efforts, calling the trip an opportunity to learn about the democratic process, network with public officials and unite around a common cause.
"It makes me feel valued and heard and not just a statistic," Julia said of BSU's support of the Statehouse visit. "It makes me feel more human and more appreciated as a student knowing that the university wants me to succeed, not just because I'm paying the money, but they actually see me as a person."
Brittany Wong, '20, a business management and marketing major from Burlington, added: "Just the fact that we're able to come out here, it's really helpful and will really change the future for the next generation of students."
Do you have a BSU story you'd like to share? Email stories@bridgew.edu.