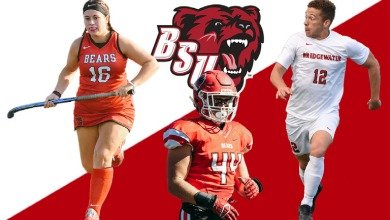 Even though we can't compete, being on this team is still important as I can still be a leader and continue the friendships I've made.
When word came that fall sports seasons were either being canceled or postponed because of COVID-19 it was a crushing blow for affected college athletes, but after processing the initial shock many are rallying and making the most of it.
"My first reaction was disappointment, but I tried to shift my perspective," said Shane Ebanks, a senior midfielder for the Bridgewater State University men's soccer team.
Fellow senior and BSU field hockey player Meghan Welch was equally disappointed.
"I was truly upset to learn my senior season would go on without any external competitions...to realize my last competition was unknowingly my last competition was a difficult pill to swallow," she said.
It's unclear if fall sports like soccer, field hockey, football, volleyball and tennis will be able to be shifted to spring.
In the meantime, BSU athletes are following physical distancing measures to safely conduct practices and workouts, but, more importantly, are staying in touch with their coaches and teammates.
That support system plays a key role in the success of many student-athletes, and is helping them navigate the struggles presented during this pandemic.
"The support you get from your team, isn't just when you're working out or playing," said senior John MacDermott, a linebacker on the BSU football team. "It's seeing your teammates in the classroom…these are the guys you hang out with, in bad times it's who you turn to, in good times that's who you are with. It may sound cheesy, but we are family."
Being able to continue practices and lean on each other has helped Meghan, a criminal justice major, as well.
"Even though we can't compete, being on this team is still important as I can still be a leader and continue the friendships I've made," she said.
Participating in athletics also helps student-athletes develop skills used off the fields.
"Playing soccer has been a huge part of my life for as long as I can remember," Shane said. "It's where I've really developed interpersonal skills like leadership, communication and collaboration. I hope some of these skills will help both in my career and personal life after BSU."
This season in particular has helped student-athletes develop a specific skill: resiliency.
"We just have to roll with it, get up, dust ourselves off and stay prepared," John, a criminal justice major who hopes one day to have a career in law enforcement, said. "You have to stay focused."
And after Shane collects his degree in finance this spring, he hopes to look back on this time with gratitude.
"COVID-19 has taken some things away but it's also sort of slowed down and simplified our lives in a way that's highlighted what's important," he said. "I've gotten to relax and spend more time with my family, and it's showed me that I've got a lot to be grateful for."
Do you have a BSU story you'd like to share? Email stories@bridgew.edu