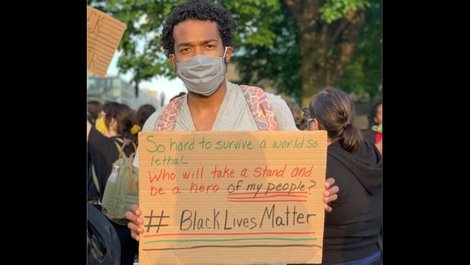 ...I hope when telling the story of the Black Lives Matter movement of 2020, people will be able to be proud of the efforts they made.
Anna Rice, '21, BSU Student Government Association President
Protests have erupted across the globe in response to the killing of George Floyd, a black man who died after Minneapolis Police Officer Derek Chauvin kneeled on his neck for eight minutes.
Some Bridgewater State University students have participated in local protests, while others work to bring awareness to issues concerning racial justice.
BSU Student Government Association President Anna Rice, '21, attended the May 31 protest in Boston. Now is not the time to offer up opinions, she said, but to listen to what protesters are saying, to read their signs and understand why they are upset.
"As a young white woman, I have a lot of privilege and it's important for people with privilege to recognize it and amplify the voices of those who are not being listened to," she said. "It is important that we educate those who do not understand the meaning behind these protests, because if we don't, this will continue."
Tajonn Nickelson, '21, took part in the May 31 protest in downtown Worcester. As a young black man, he attended because he wants to see change. He feels that people are protesting because attempts at bringing about awareness (such as former NFL quarterback Colin Kaepernick taking a knee during the pregame national anthem) have gone unheard. 
"The protest was very peaceful, the Worcester police department also joined in and walked and talked with everyone. I felt like the city came together and made sure our voices were heard," Tajonn said.
Dajuan Frasier, '20, said, he is supportive of the BSU students who have attended the protests.
"I know many BSU students, brave black student leaders and great allies, who showed up to speak out, to be in community and solidarity, and I couldn't be prouder," he said. "The events taking place will go down in history. Riots and protests concerning racism and police brutality haven't been this widespread in over 50 years, during a pandemic no less."
To become better educated Frasier, who is black, said people need to understand intersectionality, the idea that all aspects of a person's social identity, as well as their environment, create unique modes of oppression. He added that the protests present the opportunity for the BSU community to step back and examine the American way and for people to openly and outwardly affirm the rights of people of color.
"I understand how making these expressions can seem complicated," he said. "We can no longer meander upon thin lines…now is the time for strong stances. Challenge each other, challenge our families with outdated perspectives, challenge our leadership…I think that aligns with BSU and every educational institution's greater purpose. To make the world a better place."
As for Anna Rice, she said staying silent is no longer an option.
"For things to change we need everyone to be on the same page," she said. "As we move forward I hope the children seeing these protests today will never have to protest themselves and I hope when telling the story of the Black Lives Matter movement of 2020, people will be able to be proud of the efforts they made."
Ultimately, Tajonn said, this movement is about much needed change and enlightened perspectives. 
"I hope that this movement impacts our society in a positive way moving forward by helping people see how it is to be in other people's shoes…for more people to stand up for what they feel is right and to bring everyone together so protests like this don't have to happen anymore," he said.
Do you have a BSU story you'd like to share? Email stories@bridgew.edu