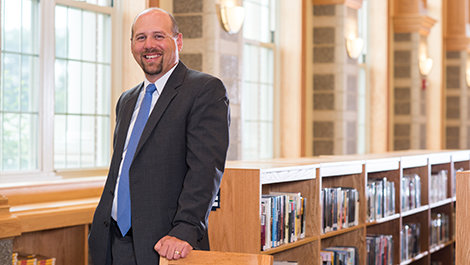 "It's all about problem solving and leading people and getting large groups of people on the same page. Everything I did at Bridgewater was very practical."
Dr. Alan Cron, G'06, Rockland superintendent
The COVID-19 pandemic poses myriad challenges for school superintendents. But, Jeffrey Schoonover, G'11, and Dr. Alan Cron, G'06, say Bridgewater State's educational leadership program prepared them for this unprecedented time. 
"It's all about problem solving and leading people and getting large groups of people on the same page," said Cron, who earned a Certificate of Advanced Graduate Study (CAGS). "Everything I did at Bridgewater was very practical."
Schoonover, who oversees the Somerset and Somerset-Berkley districts; and Cron, who leads schools in Rockland; are among more than a dozen superintendents and assistant superintendents who are alumni of the educational leadership program. Many of them now find themselves navigating uncertain financial outlooks, the switch to online learning, and unknowns about how school will be held in the fall.
"This is all so new to us with social distancing and workplace regulations and developing remote learning plans," said Schoonover, who earned a Master of Education degree at BSU.
During the pandemic, he's relied on a Bridgewater education that taught him when facing tough decisions to look at the different options through multiple lenses and focus on communication.
Schoonover was one of the first superintendents in his region to close schools for an initial two weeks in March. He made that choice in time for teachers and students to take their belongings.
"We were more prepared because I made that call sooner than others," he said. "It's part of my nature to do something like that, but certainly my experience in Bridgewater (helped)."
Schoonover and Cron praised BSU's devoted faculty, who brought real-world problems into the classroom.
"Bridgewater State was really the only school I considered because it has such a stellar reputation," Schoonover said. "All of the faculty who I had were just outstanding."
Cron was an assistant principal with a background in music when he came to Bridgewater.
"I had the practical work experience, but academically I didn't have the credentials," he said. "BSU gave me an opportunity to earn a CAGS and get a principal license."
As he leads Rockland staff and students, Cron remains committed to key principles, including educating all children and providing technology necessary to learn in the 21st century.
"The primary lesson I'm drawing on is to stick to your core values," he said. "Hard times are when your core values are most important."
Do you have a BSU story you'd like to share? Email stories@bridgew.edu.