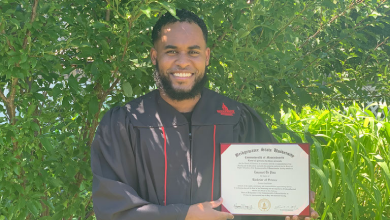 I have felt embraced by Bridgewater State…. I'm proud to be a Bear.
The minute he stepped onto campus for the first time, Emanuel De Pina, '20, said something felt different.  
"People cared," he said.  
Empathy wasn't something De Pina had regularly experienced in life. The Cape Verdean native said he often struggled early on as an immigrant and person of color. 
"As soon as I opened my mouth, I could feel the judgement. People assumed I wasn't smart based on the way I spoke," he said. "In the beginning I got upset, but I didn't let that define me. Instead, I found my strength." 
When he transferred to Bridgewater State University, after earning his associate degree from Massasoit Community College, he found the support he needed to keep moving forward.  
One day while studying on the third floor of the Maxwell Library, De Pina was approached by criminal justice Professor and department Chairman Dr. Robert Grantham.  
"He came over to me and said, 'I see you studying a lot, what major are you?'" De Pina said.  
The conversation led to Grantham becoming De Pina's adviser.  
After he lost his father, the support De Pina received from Grantham and other professors was invaluable. It continued after De Pina was involved in a car accident that resulted in ongoing backpain and dizziness.  
"They gave me a lot of strength. Sometimes I wanted to give up, I was tired, but they told me to keep going. They didn't give up on me," De Pina said.  
Now, with his criminal justice degree in hand, he was accepted into a BSU graduate program.  
The ultimate goal is to attend law school and become a lawyer. In that role, De Pina hopes to fight for social justice, and speak up for those struggling to find their own voice.  
"As my father used to say, education is the key to success in life. If you want to do something, you have to study, that's my philosophy," De Pina said. "I've suffered some discrimination, but with education I realize I can change the world in a positive way." 
He is grateful to BSU for helping him set the stage to reach his personal goals.  
"I have felt embraced by Bridgewater State…. I'm proud to be a Bear," De Pina said.  
Do you have a BSU story you'd like to share? Email stories@bridge.edu