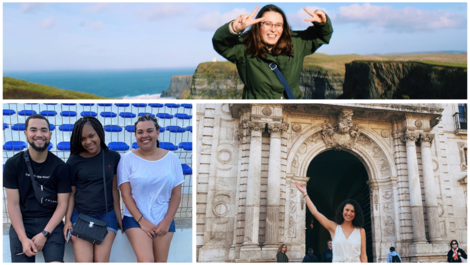 "I am very, very grateful to be from Bridgewater State, this experience changed my whole perspective of the school."
Standing in line with hundreds of others in a Cape Verde airport, Brianna Tavares, '20, heard the news she and her fellow passengers were dreading – all flights were canceled.
That's when panic set in for the BSU senior. 
Brianna was visiting Cape Verde on spring break with her friends, Aline Correria, '20, and Timas Barbosa of Massasoit Community College, when a travel ban was installed by the president of the United States.
Borders were closing, and flights were being canceled to the U.S. from Europe in response to the COVID-19 outbreak.
"Our trip started out amazing, we were having a blast…then it all came crashing down," Brianna said.
Meanwhile, in Spain, Sarah DeMello, '21, was spending the spring semester studying at the Universidad de Sevilla.
She started to hear rumors that because of COVID-19 other universities were calling students back to the United States. She was concerned, but not too worried.
"I wanted to believe this was an issue in other countries, not Spain," Sarah said.
After the travel ban was announced, she received an email from BSU's Study Abroad Office that the program was canceled, and students needed to come home.
"I could not wrap my head around what happened overnight. Life went from zero to 100 before I could blink an eye," Sarah said.
Over in Ireland, Maggie Smith, '21, was studying at the University of Limerick. There was casual conversation about COVID-19 during her time there, but she didn't see it as an actual threat until the United States implemented the travel ban.
When she received the email from BSU indicating that the program was canceled and that she had to come home, Maggie was crushed.
"I was heartbroken and devastated to be leaving," she said. "That being said, every day following the announcement there seemed to be more and more travel restrictions, so my sadness quickly turned into stress about whether or not I would be able to get home."
For the spring semester, Bridgewater State had 41 students studying abroad: eight in Italy, seven in the Czech Republic, one in France, three in Greece, one in Iceland, four in Ireland, seven in Spain, four in South Korea, three in Japan, two in Thailand and one in Australia.
Once the decision was made to cancel all the programs, getting students home to BSU became the top priority.
"Sometimes it took days for anxious students and parents to secure flights to return. We could only be reassuring and had to navigate a difficulty and rapidly evolving situation in supporting them," said Dr. Wing-Kai To, assistant provost for global engagement.
In Brianna and Aline's case, they weren't studying abroad but in Cape Verde for vacation. When their efforts to get home yielded no results, the friends found themselves stranded.
"It was crazy, the airline didn't help us…we had no money, no place to stay," Brianna said.
Desperate, Brianna took to social media for help. Brianna's family also reached out to Bridgewater State officials. BSU responded and got the women home.
"We worked with our contacts in Cape Verde to bring them back," Dr. To said.
Working together to get the students home were Angelo Barbosa, interim direct of the university's Pedro Pires Institute of Cape Verdean Studies; alumni living in Cape Verde; and BSU contacts within the U.S. Embassy.
"I was very surprised; I was like wow, they are really fighting for us," Brianna said. "I am very, very grateful to be from Bridgewater State, this experience changed my whole perspective of the school."
Maggie also praised the university.
"The Bridgewater study abroad team has been incredible, I can't emphasize that enough," she said. "This was such an unprecedented situation and it was incredibly scary to be stuck in another country…the study abroad office alleviated many of my concerns."
Sarah summed up BSU's efforts to get students home in one word, grateful.
"Many of my friends from other universities did not have nearly the amount of contact or support that I had from Bridgewater," she said. "The support that we are surrounded by is unmatched and truly something special."
Do you have a BSU story you'd like to share? Email stories@bridgew.edu