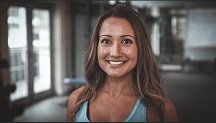 A decade ago, a priest was called in to read Allison Barnes, '01, her last rites.
Today, the 40-something CEO and founder of R3Bilt Fitness is the epitome of good health and shares with her clients the motto, "Life is 99 percent how you respond."
If anyone can back up that claim it's Barnes.
Shortly after the Bridgewater State University alumna gave birth to her first daughter, Barnes' body inexplicably started to shut down. She was placed into an induced coma. Her family began to prepare for the worst.
Miraculously she survived, and the terrifying experience inspired her to launch R3Bilt Fitness, a gym focused on reversing the aging process.
"That experience was the catalyst for every step toward this business," she said.
Fitness has always been part of Barnes' life. As an undergraduate she suited up for the Bears as a member of the women's volleyball team. Prior to transferring to Bridgewater to study exercise physiology and science, she played soccer and volleyball at Flagler College in Florida.
After a year at Flagler, the Plympton native decided she wanted to pursue a degree closer to home, so came back north to attend what was then Bridgewater State College.
Her initial goal was to go medical school, but after earning her degree from Bridgewater she opted to work in the pharmaceutical and surgical medical device industries. It's been her field for the past 20 years.
"The culmination of all that I have done in my personal experiences and educational experiences, especially my bachelor's degree in exercise physiology, has allowed me to invent and bring a new science-based fitness concept into existence to help hundreds of local people achieve better health and longevity," Barnes said.
R3Bilt Fitness, located in Milton, opened in July 2019 and uses a three-phase approach: rebuild, recover and reverse.
Barnes has adopted a "workout smarter" mentality and strives to help people get healthy. That doesn't always mean spending hours each week at the gym.
She invites members of the Bridgewater State Community looking to improve their overall health to visit R3Bilt Fitness, and also encourages interested BSU undergraduate students to apply for their internship program.
"I truly believe R3Bilt will change the health and life of everyone who commits to join the facility," Barnes said. "The results we have already seen through our members is astounding."
As her business continues to grow, Barnes remains grateful for how far she's come.
"When things happen, you can choose to own it, pick yourself up and be grateful for what you have or stay stuck and complain or feel bad for yourself," she said. "I consistently chose to be grateful and forge forward."
Do you have a BSU story you'd like to share? Email stories@bridgew.edu