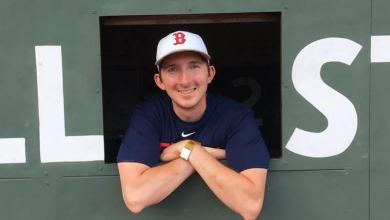 When I graduated from BSU, it definitely helped me broaden my interests a bit and left me wanting more.
The action wasn't limited to the field when the Red Sox battled the Houston Astros at Fenway Park in game 4 of the ALCS playoffs. Things were also buzzing behind the scenes.
Throughout the game, Adam Gentile, '14, was busy coordinating videos and graphics shown on one of the massive video boards inside the famed ballpark.
"I'm part of a team that makes the environment more entertaining," said Gentile, who earned a degree in communication studies with a concentration in media studies from BSU. He serves as a production assistant for the Sox and helps to create messaging, pre-game videos, and player statistic graphics that are shown to fans throughout home games.
The Melrose native is a lifelong Red Sox fan, and admits he has what's known as a "get-to" job.
"I 'get to' do production at Fenway. I 'get to' do production work with the Red Sox," Gentile said. "I enjoy what I do and don't take for granted any game I work because someone has taken a chance on me every step of the way."
Career-wise Gentile may be where he wants to be, but like many college students, wasn't entirely sure what he wanted to do when he first arrived at Bridgewater State.
"When I went in, I was undecided," he said.
Gentile also didn't have much confidence when it came to academics. "My grades weren't all that impressive," he said.
It was after visiting the Bridgewater campus that Gentile started to feel that college was the right choice for him.
"I will never forget taking a tour and walking down Burrill Ave," he said. "Bridgewater was the perfect size. It wasn't too small and wasn't too big. I just loved how open everything felt."
Having previously worked as a camp counselor and athletic coach, Gentile was leaning toward a degree in physical education. However, that changed after he took a video class at Bridgewater.
"I got my feet wet and gravitated more toward that," he said. "When I graduated from BSU, it definitely helped me broaden my interests a bit and left me wanting more."
Post-graduation, he landed a job working for a small video company that creates highlight reels for high school student-athletes. He kept looking to advance his career and stumbled upon a position doing production work for Harvard University athletics. Because of the seasonal schedules, Gentile is able to maintain his jobs with both the Red Sox and Harvard.
His willingness to work and persistence is paying off and has led him to a career he loves.
"I just always kept my eyes open for other jobs working in video," he said. "I had applied to work at Fenway twice before."
But like they say, the third time is a charm. Now that he's got his foot in the door, Gentile hopes to advance his career with the Sox as he gains more experience.
"I don't see myself going anywhere else, I plan on being at Fenway forever," he said.