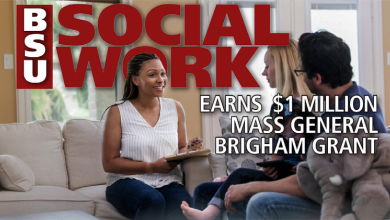 Social workers help a lot of different people regarding their mental health. We advocate for those who don't have a voice, we speak for them. This investment will be very helpful moving forward.
Michelle Lopes, '15, G'23
As a single mother of three, going back to Bridgewater State University to earn her master's degree in social work meant Michelle Lopes, '15, G'23, was forced to make some sacrifices.  
Lopes was working full-time at a nursing home but had to cut back her hours in order to create time to perform the mandatory internship required for her degree.  
This meant less income and an even busier schedule. 
"A lot of people in the grad program have to make sacrifices, but this is exactly where I want to be so I can get to where I want to go," the Brockton native said.  
The good news is that financial help is on the way for students like Lopes. 
As part of its $50 million investment in community and mental health initiatives, Mass General Brigham is supporting the BSU School of Social work with a $1 million grant to enable the school to recruit and retain a diverse student body. The funding from the non-profit hospital is targeted toward problems uncovered or exacerbated by the pandemic.
The funding couldn't come at a better time as the demand for social workers is growing.  
Lopes has witnessed the need first-hand through her internship at Manet Community Health Center in Taunton.  
"Clinicians are pretty booked, so this money will be really useful. We need more (social workers) to tend to everybody's needs," she said. "I feel like all healthcare settings are understaffed and overbooked. The pandemic has definitely increased the need for mental health supports." 
The goal of the Mass General Brigham's grant to BSU and five other higher education institutions in the state, is to build a pipeline of workers to address the commonwealth's mental health crisis. It seeks to increase capacity and expertise in the addiction workforce, in recovery coaches and mental health specialists.  
The funds will support a part-time position to assist grant recipients as well as provide those students with funding to attend conferences and trainings that will further enhance their professional networking in areas of mental health and substance abuse disorder practice. 
"This grant provides us with an opportunity to reach out and recruit diverse students" into our social work programs, said Dr. Carol E. Bonner, associate dean of the School of Social Work. "BSU prepares social work students to become equity minded practitioners and evidence-based professionals in behavioral health." 
This is all good news, said Lopes. 
"Social workers help a lot of different people regarding their mental health," she said. We advocate for those who don't have a voice, we speak for them. This investment will be very helpful moving forward."  
Do you have a BSU story you'd like to share? Email stories@bridgew.edu