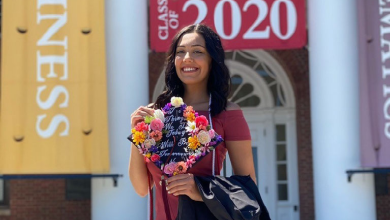 I've always been timid and afraid to step out of my comfort zone but one thing BSU encourages you to do is get involved.
It's fair to say the class of 2020 has been presented with its share of challenges.
"We had to adapt to a way of going to school that no one really had before," said Cori Dubois, '20. "It was hard missing out on all the fun end-of-the-year activities that I looked forward to. Especially graduation, something we all worked so hard for."
When it was announced last year that commencement ceremonies at Bridgewater State University would be postponed a year, Dubois was initially hesitant.
"I didn't plan on attending because I thought it was something I wouldn't be concerned about anymore. But the more I've thought about it, I do want to attend because I'll only get to do this once in my life," she said.
The Dracut native will officially collect her communication studies degree this summer with the rest of her classmates at Gillette Stadium, where BSU is holding commencement ceremonies this summer for the classes of 2020 and 2021.
"We all worked so hard, and our hard work shouldn't go unnoticed. I'm excited to celebrate all of my accomplishments, my peers' accomplishments and the challenges we endured but managed to persevere through together," Dubois said.
Despite the obstacles, Dubois still managed to land on her feet, recently securing a marketing and communications specialist position at the Jett Foundation.
The Jett Foundation is an organization that enriches the lives of individuals affected by Duchenne muscular dystrophy and other neuromuscular disorders.
"When I was looking for a job post-college there were two things I wanted: a strong company culture and values that align with mine. It was very hard to find this, especially with what's going on in the world.
"And when I started to lose hope, I had to remind myself that everyone is going through it right now…so I stayed hopeful and then I found Jett," she said.
As marketing and communications specialist, Dubois listens firsthand to the families that Jett assists. She then shares those stories with the Duchenne community and beyond through a variety of platforms, including an online blog.
She also helps prepare marketing and communications materials for program and fundraising initiatives.
"The best part of my job is being able to empower families and help share their stories," Dubois said.
The alumna credits Bridgewater State for helping her gain confidence to pursue her career goals.
"I've always been timid and afraid to step out of my comfort zone but one thing BSU encourages you to do is get involved," she said.
As an undergrad, Dubois did just that, joining the student-run newspaper, The Comment. She also studied in Italy and secured an internship working with a local news station.
"These are all things I didn't see myself doing in college, but BSU showed me the possibilities are endless when you push yourself," she said.
Looking ahead, her goal is to keep learning.
"It does not stop at BSU even though they have definitely set me on the right path," Dubois said. "I can't wait to see where opportunity takes me next."
Do you have a BSU story you'd like to share? Email stories@bridgew.edu