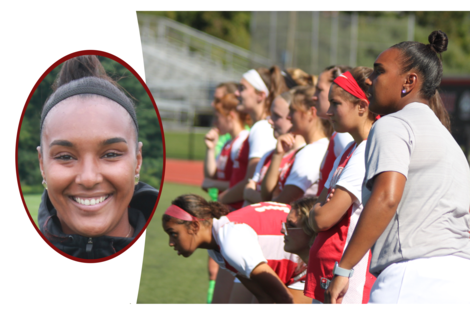 My goal as a coach is to get each player where they want to be both as a team and individuals.
As a student-athlete, Yasmina Carvalho, '10, was inspired and pushed by her coaches and mentors. But for the past seven years the roles have been reversed – she is the one motivating others.
At just 24, she was hired by Bridgewater State University in 2014 to serve as the head women's soccer coach.
"When I was hired, I was surprised, I couldn't believe it," Carvalho said. "But I knew I could make a difference at my alma mater in young women's lives, and I was excited to make a difference."
Since taking the helm, she has drawn kudos not just from those she has coached, but also from the Massachusetts State Collegiate Athletic Conference, which named her Women's Soccer Coach of the Year in both 2016 and 2018.
This year the soccer coach faced her greatest challenge when all fall sports at BSU were canceled due to COVID-19, though teams were still allowed to train together.
"I was thankful Bridgewater allowed us to work out, it showed confidence in our athletic programs that we wouldn't do anything to jeopardize our student-athletes, we would stay safe, and our players got so much out of it," she said.
To meet the challenges, Carvalho drew from lessons taught by her parents.
A first generation American, Carvalho grew up in Brockton where she played both soccer and basketball at Brockton High School before arriving at Bridgewater State, where she studied physical education and was a standout member of the women's soccer team.
Her parents, Arthur and Dulce, met in Senegal where they attended college. Arthur was born in Cape Verde while her mother was born in Guinea Bissau, a Portuguese colony.
"I'm actually really proud to be a first-gen American," Carvalho said. "Having parents that come from a different country you are taught different values and ways of seeing life in general."
And more than anything, her parents taught her about respect, something she enforces as a head coach at BSU.
During her tenure she has worked to develop relationships with players and has stayed in contact with many after they graduate.
"They become part of my family. Honestly, coaching is about making those relationships and helping people get to where they need to go," Carvalho said.
Maintaining that level of respect is crucial for both her and the players to achieve success both on and off the field.
"I show the utmost respect to my players and ask the same in return. It's important to also show you care outside of the sport, that you worry about their academics, their personal lives, and help them in any way you can. My goal as a coach is to get each player where they want to be both as a team and individuals," Carvalho said.
When she's out recruiting players, making the pitch to study and play as a Bear is easy, as she knows first-hand how valuable a BSU education is and the benefits of playing at the Division III level.
"You get a solid education for a really reasonable amount; you can't beat the price," she said. "I tell recruits that we are competitive, we win championships, we play some great soccer, but coming here you also will get to experience what college life is all about in a supportive community."
Her role as coach has also inspired her to pursue a master's degree in social work, with the goal of becoming a social worker focusing primarily on athletics, so she can add another layer of support for student-athletes at Bridgewater State.
"Being a collegiate player, trying to balance work and school, it's a lot. Student-athletes need an outlet with someone they trust on a consistent basis," Carvalho said. "I would like to spend more time being a mental health counselor to help them manage all the things on their plates."
Do you have a BSU story you'd like to share? Email stories@bridgew.edu