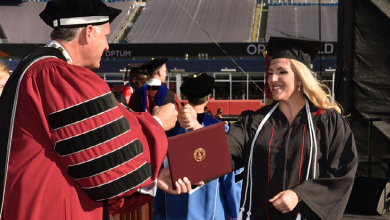 Being a mom, I needed a good support system and found it at Bridgewater State. I don't think I could have managed without that.
Raising two young children is hard, which is probably why most people wouldn't consider simultaneously going back to college, but not Georgia Johnson, '21, who decided it was the perfect time to jump right in.
At age 30, she made the decision to enroll at Bridgewater State University to earn a degree in communication studies.
"I was really nervous, I didn't think I was smart enough to do it, but two classes in, I realized I've got this," she said.
While studying at BSU, Johnson and her husband Christopher added another daughter to their growing family.
This might have deterred her from continuing, but Johnson kept going and along the way received support from many professors.
"Across the board, my professors were amazing," she said. "I had pregnancy complications in the beginning, and they really helped to take the pressure off or me."
Her path to Bridgewater started in Scotland, where she grew up.
In her homeland, Johnson was heavily involved in theater, acting and singing. She even earned a scholarship and moved to New York City to attend the American Musical and Dramatic Academy.
Johnson's acting career next took her on tour with Shout! The Mod Musical. Next up was a gig playing the USO Liberty Bell, that took her on stages around the country performing in front of military audiences.
The recent BSU graduate still performs as a member of the Highland Divas. The group has toured internationally, playing venues that include Carnegie Hall, Manchester Cathedral and B.B. King's.
Looking ahead, Johnson doesn't intend to give up acting entirely, "I plan on performing as much as possible on the side," she said.
But her next goal is to earn a master's degree in early education to pursue a teaching career.
Johnson said the support she received at BSU really helped her juggle motherhood, her acting career and school. It also helped her build confidence that she could continue her schooling, that she could reach her educational goals.
"Coming to Bridgewater was the best decision. My professors were really understanding and worked with me," she said. "I never felt like I had a professor I couldn't work with. BSU was a calm, relaxed and supportive environment."
For people considering going back to school but worried about having too much on their plate, or maybe are just insecure about the process, Johnson said, throw those worries aside.
"Being a mom, I needed a good support system and found it at Bridgewater State. I don't think I could have managed without that," Johnson said. "Look into all your avenues. If I can do it, you can do it."
Do you have a BSU story you'd like to share? Email stories@bridgew.edu