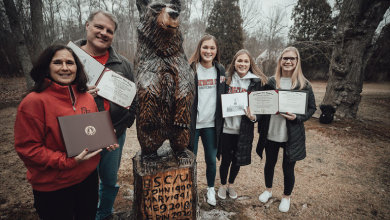 BSU is a legacy to me and my family.
Last year the McDonough's Christmas card pictured the family standing next to a bear carved into a tree in their Halifax backyard. 
Why a bear and not something more festive like a snowman?
That's because the bear represents Bridgewater State University, where John and Mary met, and each of their daughters – Meghan, Erin and Alison – also attended.
When Mary first heard of her husband's idea to hire a chainsaw artist to carve their alma mater's mascot into an old, rotted tree, she wasn't too keen on the idea.
"I wasn't a fan to be honest with you," she said.
But once the bear was completed, Mary changed her mind.
"It's the topic of a lot of conversations," she said.
The bear stands atop of a plaque that reads, "BSC/U" with each family members' name and the year they graduated on display, except for Alison who is on track to graduate in 2023.
"Rather than cut the tree down, I thought we could pay homage to Bridgewater State. We're all bears so I thought it would be a cool idea," John said.
Meghan, who graduated from BSU in 2018 with two degrees (elementary education and psychology) and also a master's degree in special education (2019), loves that her father came up with the idea.
"It was something he had talked about for a while so I'm glad he made the final decision to make it happen," she said. "It looks great and has a lot of meaning."
As undergraduates, John, '90, and Mary, '91, both took an introduction to psychology class held in Boyden Hall and admit they checked each other out, but it was John who made the first move.
After class one day, on the steps of Boyden Hall, out came the first words that John would share with his future wife.
"What did you think about the test," he asked her.
Mary was thrilled, she sat behind him in class and was already developing a bit of a crush on the guy who she said blocked her view.
"Before he actually spoke about the test, I already had a feeling. I guess you could say it was love at first sight," she said.
When it came time to propose, John knew just where he wanted to pop the question. On the steps of Boyden Hall. The couple went on to marry in 1992.
It's a story their daughters have heard often.
"Whenever we are near or around Boyden Hall, they mention it," said Alison, who is currently studying elementary education and psychology and a member of the BSU track team. "They say that (the steps of Boyden) are the heart of Bridgewater."
Despite the nostalgia attached to Bridgewater State, John and Mary did not pressure their girls to attend their alma mater, but admit they are happy that's where they ended up.
"You get a good education, it's very affordable and the campus is beautiful," Mary said. "It was a great school when we went and it's still a great school."
With Meghan getting married this fall, the question has come up, where will the grandchildren go to college? Will it be BSU or her fiancé Stephen's alma mater, Westfield State?
"Like my parents, we will not pressure them to attend either school, but will make sure to share with them the many good things about each and the benefits of attending a state university," she said.
As for the bear carving, John's hope is that, when the time comes, one of his daughters will inherit the artwork.
No doubt the bear will stay in the family as Erin, who graduated in 2020 with a degree in management, put it: "BSU is a legacy to me and my family."
Do you have a BSU story you'd like to share? Email stories@ bridgew.edu