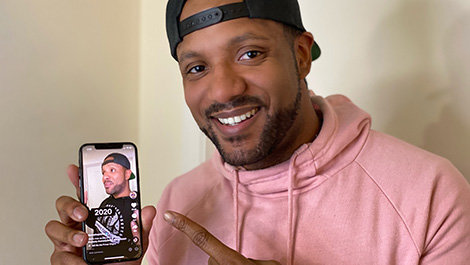 Bridgewater made me ready for where I am now. It turned me into someone who values the work more than anything. I love the work of making something happen.
Once a self-described class clown, Brian Moller, '11, has become a comedic TikTok sensation, with help from his Bridgewater State education.
"Bridgewater made me ready for where I am now," said Moller, who goes by the nickname B Mo the Prince and has more than 880,000 followers on the social media platform. "It turned me into someone who values the work more than anything. I love the work of making something happen."
Success hasn't come easily for Moller, who is also a deejay. During his first semester at Bridgewater, he discovered he wasn't ready for a four-year school. He transferred to Massasoit Community College, where Bob Bowers (a professor he first met at Bridgewater) eased his fears and encouraged him to stick with his education.
"I took some time there to get my actual studying habits in order to finally become a student instead of just getting by on being a clown," said Moller, who never abandoned his dream of earning a Bridgewater degree in communication studies. "I said 'I have to go back and I have to ... finish what I started.'"
As a Bridgewater State student, he interned at Comcast SportsNet New England (now called NBC Sports Boston) and WHDH's sports department, two dream positions for the Celtics fan. While he ultimately decided sports reporting wasn't for him, his internships helped him realize a different future in broadcasting and entertainment.
"Something clicked, where I was like this is the stuff I want to do," he recalled.
His first post-graduation communications job came when Tremeda Martin, '10, a friend from his first semester as a Bear, offered him a position at Brockton radio station WXBR. From there, he landed gigs at larger stations. Amid the pandemic, Moller lost his job as an on-air personality at 103.3 AMP Radio because the Boston station switched formats.
So, Moller turned to social media, something he praises Bridgewater professors, such as Dr. Bjorn Ingvoldstad, for emphasizing in class.
"He found a way to use a range of interests of his from social media to using technology and production, to social commentary, and brought it all together in a mix that is absolutely him," said Ingvoldstad, a professor of communication studies. "There's no front and it doesn't seem like a show."
Moller's TikTok account is a go-to destination for comedic relief. The short sketches range from impersonating the fly that landed on Vice President Mike Pence's head during a recent debate, to detailing the arguments princes and princesses inevitably have after a fairy tale's last page. Some of his most popular skits involve Millennials, Boomers and others poking fun at various generations.
His TikTok success also opened the door to prospective future opportunities in comedy and reality television. But Moller sees his channel, more importantly, as a way to lighten the mood in challenging times.
"I've had people reach out and say, 'You know, in a year and time where everything is upside down, weird, and terrible, I know every day I can come back and at least get some laughter, some fun, some joy,'" he said.
Do you have a BSU story you'd like to share? Email stories@bridgew.edu.