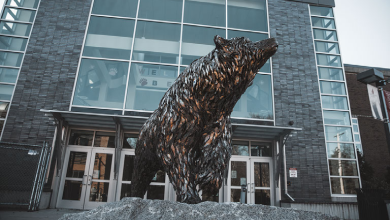 This addition on campus will serve to honor the memory of past students and faculty, to always remember them as BSU Bears who will never be forgotten.
Last year when Nick Amo, '21, was coping with the loss of another student and searching for a space on campus where he and his fellow Bears could gather to mourn, he struggled to find an appropriate location.
"Since I've been on campus, we've had deaths every semester," he said. "It impacts everyone differently, but I realized we needed a space, a place to remember past students and faculty and I thought it would be a good idea to create a space in memory of them."
Nick took his idea to Bridgewater State University President Frederick W. Clark and Dr. Joseph Oravecz, vice president of student affairs. They approved of Nick's proposal and together came up with a plan to install a new bear statue in front of the recently renamed Rondileau Student Union (RSU).
Sculptor Chris Williams, who was previously commissioned and created the bronze bear that sits in front of the Adrian Tinsley Center was hired to create the piece
"It's been a real honor to continue to work with Bridgewater State, not a lot of artists get these opportunities," Williams said. "To be able to come back and do this again, it feels like I'm not forgotten, it's not just a commission, it feels more like a connection."
According to Clark, the university used entirely private funds to commission the new bear. Work began in Williams' Essex studio in July.
Oravecz shared with Williams the inspiration for the new artwork and traveled often to the artist's Essex studio after the project started. 
"I am beyond pleased with the entire process," Oravecz said, and while he did offer suggestions, he relied on Williams's artistry and trusted he would create something spectacular. 
Williams grasped the concept from the get-go.
"The first (bear) was an effort that was hatched by the (then) graduating class to give back to the school," Williams said. "With this one the intent is to try and create a connection to the students of the past and alumni. It's more of a reflection, a symbol aimed to create a memorial and symbol of the school."
The 800-pound bronze statue now sits in front of the RSU center on top of three large rocks that Williams transported from Maine.  It stands approximately six feet high and roughly eight feet long.
"A lot of metal went into this," Williams said. "There are many small pieces of metal that work together to make a shape. There is movement in the pieces themselves… It's almost like brush strokes, it comes together almost like a painting."
Clark said that when members of the BSU community cross paths with the new bear he hopes they feel a sense of pride and, like all the small pieces of metal used in the sculpture, come together as a community.
"We have worked hard to build BSU spirit during my time as president and symbols matter," he said. "The BSU bear is a symbol of our students, alumni and the folks who have dedicated their careers to this great university. Our students are determined to overcome challenges, move forward and reach higher with courage and resilience. These qualities are exhibited by the new bear and reflect the spirit of our students beautifully."
For Nick Amo, he is grateful that in times of mourning or celebration, he and his fellow students will now have a dedicated space to gather.
"This addition on campus will serve to honor the memory of past students and faculty, to always remember them as BSU Bears who will never be forgotten," he said.
Do you have a BSU story you'd like to share? Email stories@bridgew.edu