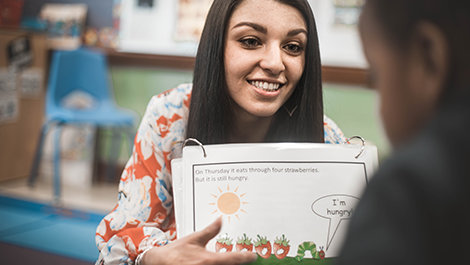 I love working with students with different disabilities. I love that I'm making a difference with them. It brings me so much happiness.
Taylor Alfonse, '17, G'19
Taylor Alfonse, '17, G'19, has found her perfect career in speech pathology, and it's one she never imagined until she became a Bridgewater State University student.
As an undergraduate, Alfonse was seeking the right academic path when she took an introductory course in the Department of Communication Sciences and Disorders. She quickly found a home in a field dedicated to helping people find their voices.
"Everything they spoke about I found very interesting," she said of her professors. "I wasn't bored. I always looked forward to it."
Alfonse went on to earn a master's degree in speech-language pathology at BSU and now serves children as a speech pathologist at Taunton's Leddy Preschool. She works with youngsters on sounds and language skills using fun, interactive activities in individual, small group and class settings. Her students learn to follow directions, describe and label items, answer questions, and master other communication skills using speech, sign language, symbols and technology.
During the pandemic, Alfonse has taught in person and through teletherapy and found lessons from her days as a Bridgewater student helpful. Professors emphasized to be ready for anything, always have backup activities, and ensure students are engaged.  
As a student, she volunteered with the Children's Physical Developmental Clinic, a program where students help children with disabilities. She also served in BSU's Speech Language Hearing Center and completed clinical requirements at Leddy.
"She just has an incredible work ethic," said Dr. Janet Belanger, Leddy's principal and a part-time faculty member at BSU in the Department of Special Education. "She's very clinically skilled. She fits in very well with the team."
Belanger appreciates the connection between Bridgewater and Leddy through which many Bears complete student teaching or other educational requirements.
"They work hard. They want to learn. They are very willing to take directions," she said. "We are very blessed to have this partnership."
BSU, Alfonse said, left an indelible mark on her thanks to real-world experience and devoted professors such as Dr. Sandra Ciocci, who had nice things to say about her former pupil.
"Taylor was an excellent student and, equally as important, she has the personality and the motivation to work with people with communication disorders," Ciocci said. "She's kind and gentle and well-spoken and very competent in what she's doing."
Some of Alfonse's passion likely comes from personal experience. Growing up, she struggled with reading and spelling herself. She went to summer school, but never worked with a professional speech pathologist.
"We don't necessarily teach kids how to read, but so much of what we work on helps with those skills," she said. "I keep an eye on them. When I see red flags, I'm able to speak for them and make sure they get the help they need."
During a typical day at Leddy, Alfonse helps preschoolers say words such as "leaf" and "butterfly," using pictures to enforce the instruction.  She helps them learn where to place their tongues and how to move their mouths to produce accurate sounds. Her enthusiasm for the job is clear.
"I love everything about it," she said. "I love working with students with different disabilities. I love that I'm making a difference with them. It brings me so much happiness."
Do you have a BSU story you'd like to share? Email stories@bridgew.edu.