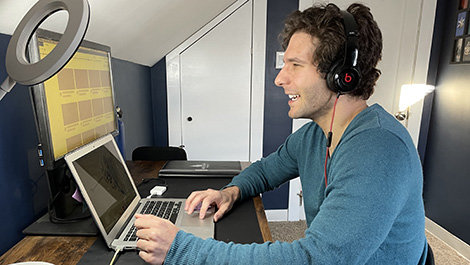 What I love about my job is it aligns so well with my personal values. Social justice and equity are things that are important to me as a person.
Dr. Kevin Duquette aims to teach aspiring school counselors how to spark change and lift up marginalized communities. According to his Bridgewater State University students, Duquette is as effective in doing this as he is committed to education.
"He's an extremely engaging teacher," said Lauren Pinchieri, G'22.  "You can tell he's super passionate about what he's teaching us."
Pinchieri and six of her classmates successfully nominated Duquette for the Massachusetts School Counselors Association's Counselor Educator of the Year Award.
"It felt like such an honor because I try to make my classes relevant," Duquette said of receiving the award. "There was this sense of validation that the intentions had been meaningful. It's nice to know I'm on the right track."
Duquette, an assistant professor of counselor education, discovered his interest in the socio-emotional side of education while teaching high school English in North Carolina through the Teach for America program. After subsequently becoming a school counselor, Duquette realized he could have an impact through research, leading him into academia.
He studies school counselor identity, model counseling programs, and equitable interventions for students of color.
"What I love about my job is it aligns so well with my personal values," said Duquette, who has taught at BSU for about three years. "Social justice and equity are things that are important to me as a person."
In addition to supporting individual students, counselors focus on closing racial education achievement gaps and are often viewed as school administrators. That gives them a platform to advocate for change, he said.
At BSU, Duquette draws on his students' insights.
"We're all adults with experience," he said. "I don't need to be the expert in the room all the time."
Students appreciate his use of real-world examples and case studies that mirror the challenges counselors face.
"He just tries to build our confidence in what we're doing," said Kayla DiGianvittorio, G'22.
And Duquette is not afraid to get creative. He uses memes and rewrites song lyrics to help students master the material. In fact, they often hum those songs to themselves during exams.
"The first thing I always think about is the music and raps he creates that gets everyone excited to come to class," said Leah Cayer, G'21. "That stuff sticks with you. ... His presence makes you want to be a better counselor." 
Duquette "overwhelmingly" met the award's standards, said Jeremie Bateman, chairperson of the counseling association's professional recognition committee.
"What touched us most was the direct student testimonials," Bateman said. "This has been an unprecedented year and a half. For students to so value his methods and support, it really made a lot of sense to offer him this award."
Ultimately, Duquette hopes students understand that work does not end upon graduation and that motivation is an important prerequisite for creating change.
"When you leave this graduate program, you are prepared to make change," he said. "You just have to take the step."
Do you have a BSU story you'd like to share? Email stories@bridgew.edu.