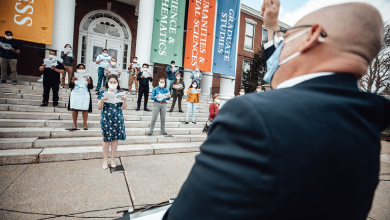 I saw how students were really needing and wanting to sing and we didn't want them to go an entire year without that social experience.
Dr. Sarah McQuarrie, music education professor
For the greater part of the year, the Bridgewater State University Chorale was forced to rehearse online via Zoom, which wasn't ideal, but at least allowed the group to participate.
As COVID-19 restrictions loosened during spring semester, the group was finally able to practice together outside. Those lucky enough to be passing by Boyden Hall may have heard them singing from the steps.
The first in-person meeting the chorale was able to hold was emotional for many.
"For me, it was the first time I had seen the students face-to-face," said Dr. Sarah McQuarrie, music education professor. "It was almost like a pep rally, yet we couldn't hug one another, but seeing each other, hearing that first sound…. I didn't burst into tears but came pretty darn close."
At the start of the pandemic, adjustments had to be made and this unfortunately meant clubs and activities were put on hold.
For the 30 students who participate in the BSU Chorale, this disappointment was exacerbated when they were temporarily disbanded after word came that Chorale Director Steven Young was scheduled to go on sabbatical. Most of the participants assumed chorale wasn't even going to happen.
That's when McQuarrie and her husband, Dr. Ronald Sherwin, who teaches music at the University of Massachusetts Dartmouth, offered to step in and serve as temporary directors.
"I saw how students were really needing and wanting to sing and we didn't want them to go an entire year without that social experience," McQuarrie said.
Singing is a huge part of senior Kalvin Mota's life and facing the possibility of not having that outlet was upsetting. Compounding things was the fact that the theatre arts major found himself living on campus alone this year, as his roommates opted not to move back on campus.
"In the beginning it was tough," Kalvin said. "But I was so happy to live on campus and (through BSU Chorale) got to meet other people who were so embracing and engaging. It really did help me make some good memories and new friends."
At first the group met remotely and rehearsed through Zoom calls. There were struggles as working apart created a disconnect.  At times it was hard to follow along, but all involved agree that it was better than not having chorale at all.
"I was worried because I thought, how will this go? But when it started, I was excited to work with new people," said psychology major Victoria Sueiro, '23.
This year's BSU Chorale music choices also reflected a message of peace and social justice.
"We wanted to find composers and arrangements that are underrepresented, women, composers of color, transgender composers…We wanted to find ways to help spread this message, to help push it," McQuarrie said.
Knowing the significance of the musical selections made this year's unique experience even better, Victoria said.
"In some small way it felt like we made some sort of difference and there was a purpose to what we were doing. The meaning of the music, and how we sound hits a lot different," she said.
The group concluded the year with an April 30 concert on the steps of Boyden. While they still couldn't perform for large groups because of COVID-19 restrictions, they did tape the performance for friends and peers to view.
"As musicians we are all about performance, but this semester it really became about the process," McQuarrie said. "The students were so happy and grateful to be making music. We were all just so happy to be here, it had more meaning for all of us."
Do you have a BSU story you'd like to share? Email stories@bridgew.edu