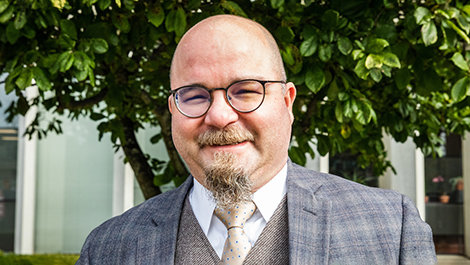 We're really trying to help people become truly educated. I believe in that mission.
Kevin Kidd, Maxwell Library dean
In an age where information is literally at one's fingertips, Maxwell Library remains an essential part of Bridgewater State University, fulfilling a role the library's new leader knows far exceeds that of a book repository. 
"One of the things we often come up against is the long-held, culturally instilled belief of what a library is," said Kevin Kidd, who recently became the institution's first dean of Maxwell Library. "People still think of libraries as (places for) books in a very traditional way. There is so much more we do now."
No longer limited to just working with the physical books on shelves, librarians' expert guidance these days helps patrons sift through seemingly limitless volumes of studies and articles to find what they need for an assignment or project. They also partner with faculty on research, organize events, participate in curriculum development, and teach students how to conduct research, Kidd said.
Kidd, who discovered a passion for libraries in graduate school, began his career as the internet was rapidly changing the nature of research. With a background in library technology, he most recently led the Schumann Library & Learning Commons at Wentworth Institute of Technology.
"I think libraries are really central to the mission of any university," said Kidd, who brings experience designing software and systems. "Everything you do in a library now is mediated by technology."
This perhaps became most apparent during the COVID-19 pandemic, when the BSU community largely learned and worked remotely. Librarians supported research by answering phone calls, emails, texts, and online chat messages. They connected patrons to video tutorials and curated web-based subject guides.
Kidd's involvement with libraries extends into his Easton community, where he serves on the board of Ames Free Library. He is excited to now work at another institution serving the region.
"I liked the community aspect and feeling like I was going to work in the neighborhood," Kidd said. 
He also looks forward to supporting BSU's renowned undergraduate research program.
"We're not trying to sell some product to somebody," Kidd said. "We're really trying to help people become truly educated. I believe in that mission."
Do you have a BSU story you'd like to share? Email stories@bridgew.edu.