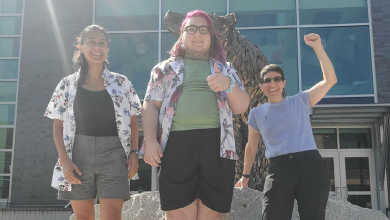 I think creating that home away from home for students…anytime a student or alumni tell me I made a difference in their lives, that makes me incredibly proud.
Lee Forest, BSU Pride Center founding director
The Bridgewater State University Pride Center is losing its founding director, Lee Forest, but administration officials vow to continue its tradition of supporting the LGBTQ+ community.
"Bridgewater State University owes Lee Forest a debt of gratitude for their extraordinary leadership of the GLBTQ Pride Center for its first 14-and-a-half years," said Sabrina Gentlewarrior, vice president of success and diversity.
Forest brought about important institutional changes that included housing assignments based on gender identity and using "lived" names which allow those to use a name that aligns with their gender identity.
"As our understanding evolves, we are able to identify more language that's more reflective of our realities. It took some time to make that happen, but now it's everywhere across campus, it's fantastic," Forest said.
These changes, and other important efforts, have helped to create a more supportive and inclusive environment for the Bridgewater State LGBTQ+ community.
From the start, as director of the Pride Center, Forest set specific goals.
"I wanted to educate the world but am happy to start with BSU…I want to educate as many people as possible about the truth of LGBTQ+ lives. There's a lot of misinformation out there, as is true with all minoritized populations," Forest said.
Within the Pride Center Forest also wanted to create a welcoming environment: "I think creating that home away from home for students…anytime a student or alumni tell me I made a difference in their lives, that makes me incredibly proud."
For Cristina Dudziak, '22, a psychology major who works at the Pride Center, she has a hard time describing the impact the center and Forest have had.
"I didn't think the Pride Center would be such an enormous part of my life and BSU experience. Through many conversations with Lee, they really helped me understand myself so much better. I got to know myself," Cristina said.
Fine Arts major Elliot Philie, '23, who also works at the Pride Center, said the center has done exactly what Forest intended, provided him/them with a home away from home.
"It made me aware that there are many people like me, or at least allies," Elliot said. "With so many different identities and races (at BSU), Lee has made sure everyone feels comfortable in the Pride Center."
The foundation Forest built will live on. A nationwide search for a new Pride Center director is underway and the successful candidate will be expected to pick up where Forest left off.
"We look forward to welcoming a new colleague to continue the GLBTA Pride Center's important work," Gentlewarrior said.
As for Forest, they will continue to help educate the campus community and are looking to offer a Name in Use training this fall.
The online, self-paced course will focus on ways people can be respectful and use correct and current terminology when interacting with members of the transgender community.
"I am thrilled that BSU will continue to benefit from Lee's skill, compassion and equity-mindedness as they continue their work on behalf of BSU students through their role in the Teaching and Technology Center," Gentlewarrior said.
Do you have a BSU story you'd like to share? Email stories@bridgew.edu