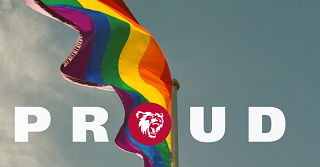 Having Bridgewater and the athletic department pushing me to do my best, has been really reassuring.
The summer before entering his freshman year at Bridgewater State University, Thomas "TJ" Scalese, '21, who is a member of the school's swim team, decided it was time to be true to himself.
"Only a few months before coming to college I came out," he said. "It was scary, I didn't want to be known as 'the gay swimmer,' 'the gay guy.' I didn't know what to expect."
His fears quickly vanished, because upon his arrival TJ discovered a welcoming and supportive environment.
"I found I really had nothing to be scared of," he said. "I met other swimmers, coaches, and the athletic department helped me to be open and allowed me to be myself."
Creating an environment where student-athletes can focus on their sport and academics instead of worrying about how they will be perceived, is no doubt part of the reason why the BSU Athletic Department was recently named the 2020 D-III LGBTQ Athletics Department of the Year.
"For the NCAA to acknowledge us for doing the right thing because it's the right thing to do, it's such an honor," said BSU Athletic Director Mary Beth Lamb. "It really comes down to our coaches, staff, our student-athletes, and everybody coming together to create an inclusive environment."
This is the first year the NCAA has given the award, that recognizes a Division III athletic department or conference office that's demonstrated proactive efforts to create and sustain an LGBTQ-inclusive culture.
"Being the first is great recognition. Now we have to pick up, and raise the bar on ourselves," Lamb said.
Lamb and the rest of the athletic department worked together to develop a safe and inclusive environment, that includes a transgender student-athlete policy.
The school was the first in its conference and New England in 2012 to introduce such a policy, which "prohibits discrimination on the basis of gender identity and gender expression."
Through collaboration with the Pride Center, a new student-athlete diversity inclusion committee has been created that will focus on education and programming to create a more inclusive experience for all student-athletes.
And when the new Bear Paw Pavilion, a 6,800-square-foot building that includes team locker rooms is complete, it will include gender neutral bathrooms.
"We are being deliberate with our decisions as we move forward, always thinking, what can we do to make it a welcoming environment," Lamb said.
While all these efforts have led to the BSU Athletic Department being recognized by the NCAA, Lamb said the work doesn't stop here and she hopes that student-athletes feel comfortable in the space they've created.
"I hope they are proud of us and proud of being a Bear," she said. "But wouldn't it be great if someday in the future, it's not so much that it's great, but that's the expectation."
For TJ, having that support makes all the difference.
"I'm having the best experience of my life," he said. "Having Bridgewater and the athletic department pushing me to do my best, has been really reassuring."
Do you have a BSU story you'd like to share? Email stories@bridgew.edu