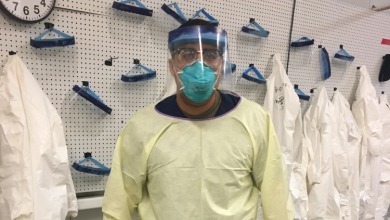 Because of the support from the Bridgewater community, I was able to step away from my classes and not worry. There wasn't a professor who didn't support me.
When senior Jordan Snow received orders that his Vermont National Guard unit was called into active duty this past spring in response to the COVID-19 crisis, he wasn't sure how he was going to balance service and school.
He left Bridgewater State University in March with his military uniform in one hand, his academic books in the other.
"We didn't really know why (we were activated), but once we were there it was off to the races," Jordan said.
He soon discovered the job was to build a field hospital with 500 beds, running water and electricity in Essex Junction.
Jordan had previous military experience, but none of that included carpentry or plumbing.
Prior to coming to BSU to study social work, the Vermont native first attended Boston's Berklee College of Music. He didn't graduate, opting to travel and live in Europe where he taught guitar on an Air Force base.
It was a conversation with one of his students that inspired him to enlist in the military.
The student was upset and confided in Jordan, sharing that she had only seen her father twice in the past two years because of his military service.
It was a defining moment for the then 22-year-old.
"I thought about her father serving our country and decided that's what I needed to be doing," Jordan said.
He enlisted and served four years as a Marine bandsman. His responsibilities included recruitment and performing at military ceremonies. He never was required to build anything, let alone a working hospital. So, when he arrived in Vermont as a new member of the National Guard, there was a bit of a learning curve.
"Keep in mind I'm a musician going back to school for social work, I knew nothing about electricity or plumbing," Jordan said.
Things developed further when he and his unit were trained to be orderlies at the hospital they built, another area in which Jordan had no experience. Still, he rallied. 
"I look at it as I signed up to serve, and that's what I'm doing," Jordan said.
As the number of coronavirus patients fluctuated, his unit stayed in Vermont through October before being released. When numbers flared up after Thanksgiving, Jordan and his unit were called back to Vermont to assist.
It became increasingly obvious to Jordan that performing his duties in the guard and studying for school was becoming nearly impossible.
"I didn't have the ability to concentrate on Bridgewater and do what I needed to in Vermont," Jordan said.
As more patients filled the hospital, he struggled to get his assignments in. So, he reached out to his professors for help.
"They came in clutch for me," he said.
Every email, every phone call he made was met with encouragement, assuring him that it would all be okay.
"Because of the support from the Bridgewater community, I was able to step away from my classes and not worry. There wasn't a professor who didn't support me," Jordan said.
Professor Dr. David O'Malley has been particularly helpful.
"He goes above and beyond to ensure I have what I need to continue to be successful and a plan to come back," Jordan said.
When he does return to BSU to resume his studies, Jordan's goal will be to pursue a career in social work upon graduating.
"For me to be successful, I need a purpose in life. I really want to help people that can't help themselves. I believe I will be able to find my purpose through social work," he said.
Do you have a BSU story you'd like to share? Email stories@bridgew.edu