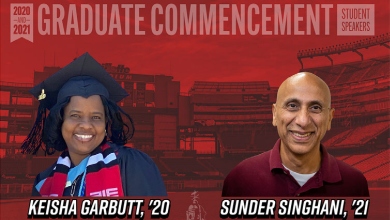 What I learned from BSU, the community here, especially during the pandemic…I'm grateful to be able to talk about my journey and congratulate the BSU community.
Keisha Garbutt, G'20, who works as a teacher in her native Belize, will soon board a plane and make her way back to Massachusetts to collect her master's degree from Bridgewater State University.
"I really want to thank President Clark for holding onto his promise and giving us a commencement ceremony," Garbutt said. "I'm excited to get the chance to jump up and celebrate."
When COVID robbed the class of 2020 of the opportunity to participate in the usual commencement ceremony last year, President Frederick W. Clark Jr pledged that he would not cancel but rather reschedule the milestone event.
On the evening of July 29, both the 2020 and 2021 graduate classes will partake in separate commencement ceremonies held on the field at Gillette Stadium.
Garbutt was selected as graduate student commencement speaker for the class of 2020, and Sunder Singhani, G'21, will speak on behalf of the graduate class of 2021.
In 2019, Garbutt, who has worked as an educator for 20 years, left Belize to live on campus where she studied elementary education with a focus in literacy.
"I never really thought about leaving my country to study abroad," she said.
That all changed when BSU popped up on Garbutt's radar through the university's Belize service program, where students travel to and perform community service at St. John's Anglican Primary School where she works. 
"I made great ties working with the student-teachers," she said.
Members of the BSU program convinced Garbutt to come back to the university to study and gain more education so she could then return to Belize and help strengthen area literacy programs.
"I had the most amazing experience," she said. "Everybody was so positive and welcoming…Anyone who goes to Bridgewater State University and doesn't make it, something is really wrong because you are fully supported," she said.
Singhani, an immigrant from India (currently a US citizen) and father of two grown children also said he felt accepted and supported at BSU.
"My BSU experience was very positive…I was blown away by the kindness, compassion and love I received," he said.
Prior to coming to Bridgewater, Singhani worked in the software industry for more than 30 years. One day he decided it was time to go in a new direction and began to pursue a career in mental health counseling.
He already had a degree in electrical engineering, a master's degree in computer science and master of liberal arts degree with a concentration in clinical psychology, before enrolling at Bridgewater State.
The self-proclaimed lifelong learner will now collect his third master's degree, this time in mental health counseling, and is thrilled to have the opportunity to speak before his classmates.
"To be selected to speak is a privilege and an honor," he said. "What I learned from BSU, the community here, especially during the pandemic…I'm grateful to be able to talk about my journey and congratulate the BSU community."
Singhani isn't done learning yet. He looks to continue his education through a doctoral program at Ohio State University this fall.
"People should never be afraid of learning new things," he said. "An old dog can learn new tricks, I'm an example of that."
Garbutt hopes to one day work on the administrative side of education and continue her work building strong literacy programs. She encourages people to never stop learning and growing.
"Throughout the pandemic I think it became apparent that we need each other. It doesn't matter what your position is in life. Each person has their part to play in this world," she said. "We must appreciate the role of each person."
Do you have a BSU story you'd like to share? Email stories@bridgew.edu