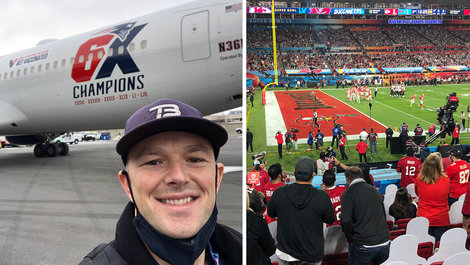 There are so many workers out there that are deserving, I wish I could have shared it with all of them because so many are putting in the work.
Casey Florence, '10, was working his shift in the emergency room at Signature Healthcare Brockton Hospital when his boss asked to see him.
"I thought we were going to go run a quick errand," he said.
Instead, the Bridgewater State University alumnus was brought into a conference room and asked if he had any interest in flying to Tampa, Florida, on the New England Patriots team jet to attend the Super Bowl.
"I thought it was a joke. I thought I was being pranked, but once I realized it wasn't a joke, I of course accepted," he said.
Florence was one of 76 New England healthcare workers invited by Patriots owner Robert Kraft to attend Super Bowl LV. The gesture was Kraft's way of thanking those working the front lines during the COVID-19 pandemic.
Florence was a standout linebacker for the Bridgewater State University football team and served as captain for two years. He graduated with a degree in exercise physiology.
His time on the squad helped him to prepare for his current career working full-time as a firefighter/paramedic for the Bridgewater fire department and part-time emergency room nurse.
"Being part of a team sport definitely teaches you how to work with people under stressful situations," Florence said.
Applying those skills has never been more important than this past year during the pandemic.
"It's been a long stressful year," Florence said. "My wife (Colleen) is also a nurse in the ER and we both have been dealing with it day in and day out. But we do what we have to, it's what we signed up for."
Humble about his role in helping others, Florence is grateful to have been given the opportunity to be invited to attend the Super Bowl.
From the moment they arrived at Gillette Stadium on Sunday, he and the 76 other health care workers were "treated like celebrities," he said.
The group first met in Foxboro, where state police escorted them to Logan Airport. They drove right onto the tarmac where a press conference was held with Governor Charlie Baker before boarding the plane. 
"We definitely weren't flying coach," Florence said.
Upon landing in Tampa, the group was then introduced to Kraft who posed for photos before sending them off to the NFL Tik-Tok pre-game Super Bowl party featuring pop singer Miley Cyrus.
Finally, they were funneled into the stadium where people stood and clapped in appreciation.
Florence found himself 20 yards from the field on the  endzone in Raymond James Stadium. He noted it was slightly bigger than BSU's Edward C. Swenson Athletic Complex where he played.
When a half-naked fan darted out onto the field in the fourth quarter, his phone blew up: friends were jokingly making sure it wasn't him.
"Nope, not me," he said. "I got a good video of it though, so I can prove it's not me."
As a lifelong Patriots fan, seeing former players Tom Brady and Rob Gronkowski playing together again for the Tampa Bay Buccaneers and triumphing over the Kansas City Chiefs was icing on the cake. 
Overall, he said, the entire experience was surreal.
"In a year where COVID came through and life came to a halt…I was randomly selected to go on a jet to the Super Bowl," Florence said, amazement in his voice. "There are so many workers out there that are deserving, I wish I could have shared it with all of them because so many are putting in the work," he said.
In terms of the BSU community doing what it can to help, Florence recommends getting the vaccine when it becomes available.
"When it's your turn get vaccinated, try and do your part," he said. "I realize it's not ideal going to college during a pandemic when you want to be out with your friends having a good time, but hopefully soon we will be able to put this behind us."
Do you have a BSU story you'd like to share? Email stories@bridgew.edu