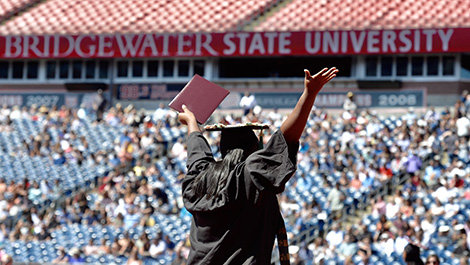 We demonstrated an unprecedented ability to adapt and change and that is what sets us apart.
Adaisha Straughn could have given up her educational dreams. Stress prompted her to put classes on hiatus, but hard work and a renewed focus ultimately led her to the commencement stage at Gillette Stadium.
"I still can't believe this is happening," the mathematics major said. "It's awesome. To be here with family and friends is great."
Straughn was among approximately 2,000 Bridgewater State University students recognized for their academic accomplishments at Saturday's undergraduate commencement ceremonies for the class of 2021. Speakers praised graduates' success amid a COVID-19 pandemic that upended their college experience but did not deter them.
"We persisted. We endured. And along the way we may have learned something about ourselves: We need each other," said President Frederick W. Clark Jr., '83. "As much as possible, we need to be together since being alone cuts against the grain of our humanity. Being together to learn, to serve, to lead, to compete or simply have fun matters."
Congressman Stephen Lynch, former state Sen. Therese Murray and BSU President Emeritus Dana Mohler-Faria received honorary degrees and offered words of wisdom for the graduates.
"Whether you realize it or not, you have learned to change obstacles into opportunities," said Murray, the first women to be president of the Massachusetts Senate. "Looking at obstacles as opportunities allows you to persevere, to find a new way to think and to be creative in reaching your objective."
The day was especially meaningful for graduate Brian DelloRusso, a physical education major who asked his girlfriend, Katie Bryant, to marry him just before the ceremony. She said "yes."
Gillette Stadium was the perfect proposal location for the Patriots fans, who first met as Weymouth High School students. Katie, he said, made it possible for him earn his degree while raising their young son, Maxwell.
"It's amazing," he said of the proposal. "I want to spend the rest of my life with her. She helped me through this journey with support and encouragement."
Abigail Soares' dream to become a teacher began in her childhood bedroom, where she would pretend to take attendance with her family and friends serving as pupils. Soares, the student speaker for the colleges of education and health sciences, business, and science and mathematics, encouraged classmates to never stop following their dreams.
"We demonstrated an unprecedented ability to adapt and change and that is what sets us apart," the English and elementary education major said. "The only way to survive was to adapt, so we did against all odds. But we didn't do it alone. We did it through the help and support system of professors, staff, friends, family and peers and everyone behind the scenes who turned dreamers into achievers."
Ethan Child, an English and secondary education major, told his classmates in the College of Humanities and Social Sciences to follow a Cambodian proverb: "Do not abandon the curved path, don't travel on the straight path."
The curved path to a BSU degree may have included transferring schools, navigating online learning, changing majors, finding a job, or raising kids.
"Classmates, I am inspired by your refusal to adhere to the straight path," Child said. "Before me today are change-makers, visionaries shaping more sustainable futures, activists advocating for equity for the LGBTQ+ community, and leaders in the ongoing fight for racial justice."
In the parking lot before commencement, Tiffany MacLean, an elementary education and art major, reflected on being a first-generation college student and the help she found at Bridgewater around every corner. 
"Navigating through college without the support of someone who has already done it meant a lot of problem solving and trying to figure out what way works best," said MacLean, who will teach at Burkland Elementary School in Middleboro this fall.
Her mom, Christine, added: "We're proud of her. We never even thought of going to college and now she's graduating. It's great."
Do you have a BSU story you'd like to share? Email stories@bridgew.edu.