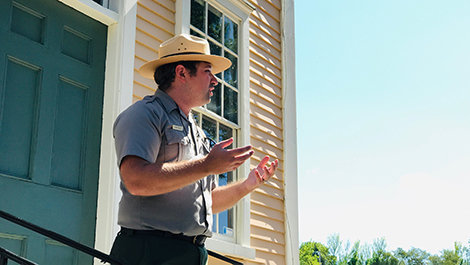 Everyone I took classes with (at BSU) gave me a new appreciation for what the study of history is and isn't. ... They really solidified the importance of doing history the right way.
Mark Mello, '17, is literally immersed in history.
The park ranger and public historian leads tours of the 1793 Slater Mill in Pawtucket, Rhode Island. And if that's not enough, his office is in a nearby stone mill built in 1810.
Mello sees history as an avenue to understanding the present, a perspective forged by Bridgewater State University professors who took the discipline beyond dates, names and events.
"They really solidified the importance of doing history the right way," Mello said. "History is the study of the past and trying to draw lessons from that past and learn from it in the future."
Mello, who has degrees in history from BSU and Providence College, works at Blackstone River Valley National Historical Park. Established in 2014 to recognize the first region of the country to become industrialized, the park encompasses sites in Massachusetts and Rhode Island. It tells the story of the Blackstone River's role in powering the Industrial Revolution, including Samuel Slater's pioneering cotton spinning mill in Pawtucket.
Mello's duties include leading tours, performing public outreach, and connecting with community groups. He also helps maintain the park's website and social media presence.
"My job is to create good stewards for the future, people who care about these places, to help them understand why it is important we protect these stories and tell more of these stories," he said.
Mello loved history since he was a young child and recalls family trips to historic sites such as Gettysburg. In high school, he began volunteering at New Bedford Whaling National Historical Park. During his senior year at BSU, he worked there part-time.
He praised Bridgewater history professors for teaching fundamental research and other skills necessary for today's historian. Under the mentorship of Dr. Thomas Nester, Mello wrote an honors thesis about the New Bedford whaling industry during the Civil War.
"Everyone I took classes with gave me a new appreciation for what the study of history is and isn't," he said. "That's something that never came through in middle and high school."
Mello came to Bridgewater with a passion, said Nester, who is an associate professor of history.
"Mark was a fantastic student," he said. "He's one of those who makes my job easy. ... It is his love of history that really drives and motivates him."
Mello encourages history majors to keep their options open. As a freshman, he wasn't set on a career in the National Park Service. Now he relishes the opportunity to tell the story of America's industrialization in one of the places where that historic transformation began.
"I get to be in the middle of this history," he said. "That place-based opportunity to meet with people from across the country and to talk with them about the good and bad that came from what started here is really something I consider an honor and a privilege."
Do you have a BSU story you'd like to share? Email stories@bridgew.edu.