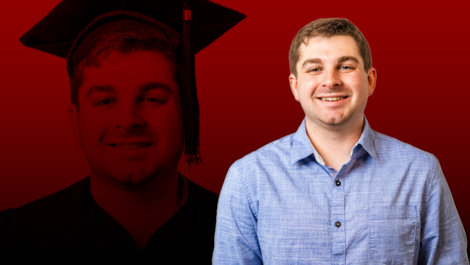 I felt that transferring to BSU was a good choice because I felt that I got exactly what I wanted out of my college experience.
Shortly after walking the commencement stage at Gillette Stadium, Pembroke native Vinny Coyle, '22, took a moment to reflect on his college experience.
"I am very proud of this accomplishment and thankful for all my friends, family and professors who helped me along the way," he said.
Coyle transferred to Bridgewater State University after completing his freshman year at another institution, and said the move was, "one of the best decisions I ever made."
The criminal justice major, who currently lives in Pennsylvania, recently graduated summa cum laude with departmental honors. He currently works as a recovery coach and case manager with Central Behavior Health.
We recently caught up with Coyle to learn more about his time at Bridgewater State. 
Can you share what the transfer experience was like? Transferring to BSU was extremely easy, I was never confused throughout the process. All of the information I needed to make the transition and apply to be accepted into BSU was very straightforward.
What made you want to transfer to BSU? I did a lot of research into BSU's criminal justice department and discovered that it fit my needs as a student. The school being affordable was also a major reason for my transferring.
You previously shared that coming to BSU was a good choice, can you please elaborate as to why? I felt that transferring to BSU was a good choice because I felt that I got exactly what I wanted out of my college experience, at least academically. Not being on campus for my entire junior year because of COVID was definitely a struggle. However, academics was my main reason for going to college and I felt academically enriched through BSU.
Do you have any professors or mentors that helped you on your BSU journey? Dr. Luzi Shi was my adviser, professor for one of my classes, and my mentor on my honors thesis. She helped me incredibly and I am so grateful for her.
Dr. Emily Brissette and Dr. Hannarae Lee were professors who I also had for classes, and both were on my honors thesis review committee to approve my thesis for completion. I have them to thank as well.
In what ways do you feel BSU helped you prepare for post-graduation? BSU helped me by recommending internships and career paths for me, helping me decipher what I wanted to do with my degree.
If you were to encourage a prospective student to take a look at BSU, what would you tell them? I would tell any student to enroll at Bridgewater State University. In my experience, the professors are well-versed in their fields and really take the time to help you as a student. The school is also affordable and offers many services to all kinds of students, from transfer students to first generation students.
Do you have a BSU story you'd like to share? Email stories@bridgew.edu