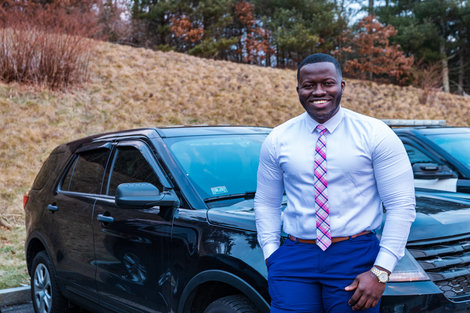 I look forward to having uncomfortable conversations. I'm ready for it. I welcome all to bring it to the table, to get input on what we can do better. I'm willing to listen to what students have to say…Everyone's opinion is welcome
Aboubacar Diakite, BSUPD community liaison
Aboubacar Diakite arrived at Bridgewater State University in January with an important mission: to help bridge the gap that can sometimes exist between police and members of the community they serve.
Diakite was appointed BSUPD's community liaison, a new position created as part of the department's racial justice policing model. 
"Bridgewater taking steps to create positions like this shows how determined they are to really talk about issues like racial justice, systematic fair treatment of all people, and equality opportunities," he said.
Chief David Tillinghast said Diakite's role will help the department further develop and maintain trust and understanding, especially with students of color.
"We need to bridge the divide we know exists between law enforcement and communities of color…and we need specialized approaches to serving diverse students and groups," the chief said. 
Throughout his career, Diakite has worked in a variety of roles with the similar goal of helping others and strengthening communities.
After graduating from Suffolk University with a degree in sociology and concentration in criminal justice, he worked as a social worker for the state Department of Children and Families.
From there, Diakite moved to Boston municipal court, where he worked directly with litigants of domestic violence. This often required collaboration with local and state police.
Still wanting to do more, Diakite moved on to serve as an investigator for the Suffolk County Sheriff's Department.
"A lot of times when police respond to crimes, they don't get a full picture of what transpired…People put up a wall," he said. "As an investigator, I called victims and allowed them to tell their side of the story to get a better picture of what happened during incidents."
In all his roles, Diakite found success by listening, collaborating, and effectively communicating. He looks to apply these skills as the BSUPD community liaison.
"My goal is to work with the BSUPD, outside organizations, students, faculty, and staff to help establish trust," he said. "In order for us to bridge gaps between the BSUPD and students, there has to be some level of trust there."
Chief Tillinghast, upon interviewing Diakite, felt it was obvious he was the right person for the job.
"He thoroughly understands what we are trying to accomplish," he said. "We believe he will be able to relate to and work excellently with students as well as law enforcement."
Diakite plans to create a space for open dialogue.
"The narrative is that people of color have no trust in law enforcement," he said. "In order for us to break down these barriers, we have to have conversations."
He is already reaching out and meeting with departments across campus to learn what resources are available and how they can work together to create an agenda for his new position.
In doing the work, he hopes the voices that are the strongest come from the students themselves.
"I look forward to having uncomfortable conversations," Diakite said. "I'm ready for it. I welcome all to bring it to the table, to get input on what we can do better. I'm willing to listen to what students have to say… Everyone's opinion is welcome."
Do you have a BSU story you'd like to share? Email stories@bridgew.edu