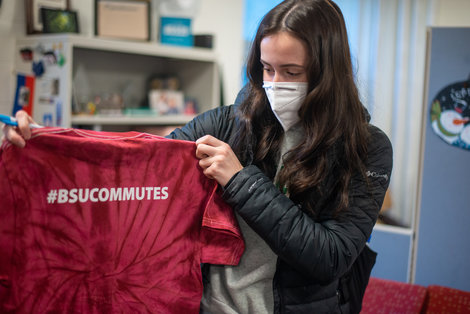 There are going to be so many students that come here, and we can now offer this group so much more.
Shelly Keniston, director of off campus and commuter services
When Shelly Keniston recently walked into room 007 in the Rondileau Student Union she became emotional.
"I almost started crying," said the director of off campus and commuter student services. "There are going to be so many students that come here, and we can now offer this group so much more."
To better serve the Bridgewater State University commuter population, Room 007 in the RSU was converted from an underused computer lab into a dedicated space for commuter and off-campus students to gather, study, get information, grab a snack, socialize and more.
"Commuters are a significant group, they make up 72 percent of our student body," Keniston said. "My job is to provide resources for them, help them engage more with the community and get more involved."
The new centralized RSU office will undoubtedly help to achieve this, she added.
With a conference room, a quiet area with desks, a lounge area, and cocoa station, there are plenty of options for students who drop by.
"The students are excited," Keniston said. "We already have events going on and even more being planned. We're communicating with the students to help define how best to use the space."
Previously, the commuter office was located in the East Campus Commons. 
"We could only fit two to three people in the office at once. It was very crowded," Keniston said.
The lack of space meant there was nowhere to host meetings or comfortably gather.
Since the ribbon cutting ceremony last month, Keniston said she's already seen an uptick in student traffic.
"Some come in to work or study, while others come in to heat something up in the microwave in the middle of the day," she said. "It may seem like a small thing but being able to come in and use a microwave or grab a coffee is extremely helpful for students who have nowhere to go."
With plenty of room for students to visit, Keniston said it also allows her to more easily sit and share all that BSU offers its commuter population, such as how to secure off-campus housing.
For example, workshops led by area landlords are available for students to come and learn how apartment leases work.
"We also have good relationships with many local businesses in the area. It's important for students to know what resources are offered locally, not just on campus," Keniston said.
Being near other BSU departments is an additional benefit.
"It's allowed us to open up opportunities to work with other offices like the Academic Achievement Center," Keniston said.
Moving forward, Keniston plans to continue reaching out to commuter students to learn how to best meet their needs.
"We aren't trying to pull students out of residential living…it's great to live on campus and experience that environment. Our job is about supporting our students that are actively choosing to not live on campus and make sure they know what all of their options are," Keniston said.
Do you have a BSU story you'd like to share? Email stories@bridgew.edu