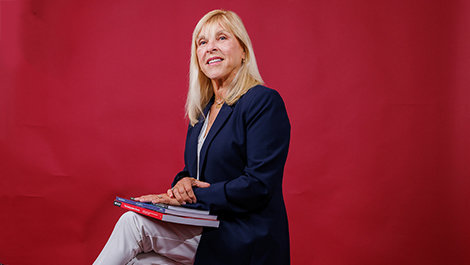 I want to do everything in my power to make sure we remain a stellar and exemplary university.
Dr. Lisa Battaglino, '79, experienced Bridgewater State University as a student, professor and dean. Now, she is adding one more title to that list: trustee.
Battaglino, who was recently appointed by Gov. Charlie Baker to the university's Board of Trustees, worked at BSU for about three decades, mostly as a special education professor and dean of the College of Education and Health Sciences.
"I wanted to continue being a part of the Bridgewater family," said Battaglino, who retired in 2019. "This was a perfect way to contribute and bring my expertise to the table and still participate in the growth of the university."
Battaglino dedicated her career to improving education locally and around the world. She forged a partnership with the Ministry of Education in Belize through which faculty, administrators and students volunteered in the country's schools. Battaglino further collaborated with educators in Singapore, Cape Verde, Russia and China. 
She participated in a White House summit as a result of her efforts to improve technology training for future teachers. Battaglino also focused on partnering with urban schools and increasing the number of science, technology, engineering and math teachers.
She has remained busy in retirement, researching how to provide services for people with both Down syndrome and Alzheimer's disease. People with Down syndrome now often live into their 60s, increasing the likelihood they will have both disorders simultaneously.
"It's an important area that hasn't been explored up until this point," she said.
The research also has a personal connection: Battaglino's brother, Joel, has Down syndrome.
For a decade, Battaglino advocated for a recently passed Massachusetts law that ensures students with intellectual disabilities can attend college. BSU already offers opportunities to participate in classes, clubs, and residential life through the EXCEL program.
"We have been a role model in providing people with disabilities access to higher education," she said. "It has been an honor to be affiliated with Bridgewater because of that."
Battaglino serves as a gubernatorial appointee to Massachusetts' Special Commission on Rural School Districts. She is also a member of the BSU Foundation's investment and student engagement committees.
She looks forward to bringing her perspective as a former professor and administrator to the Board of Trustees.
"Education is my field and I believe strongly we have one of the best teacher-preparation programs in the U.S." she said. "Although all of our programs are fantastic, that one is particularly dear to my heart. I want to do everything in my power to make sure we remain a stellar and exemplary university."
Do you have a BSU story you'd like to share? Email stories@bridgew.edu.