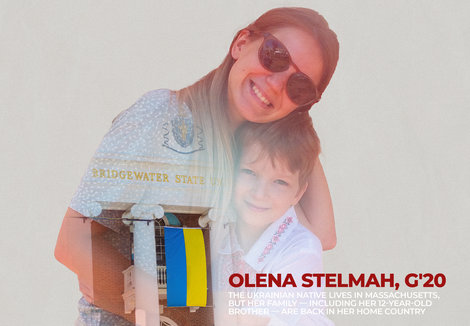 Freedom is our number one priority.
Even though she is safe in Massachusetts, Olena Stelmah's, G'20, thoughts are with her family in her native Ukraine, whose members are doing their best to survive the ongoing Russian invasion.
"A lot of people have fled the country, but my family can't do that," she said. "My grandmother is older and can't safely move, so my mom, 12-year-old brother, and grandmother have stayed. Luckily my city is not bombed yet, but that can change any minute."
Stelmah, who is from Vinnytsia, earned her master's degree in business administration from Bridgewater State University. She also worked as a graduate assistant for international student and scholar services.
When the COVID-19 health crisis initially struck, Stelmah was one of the 86 international students who remained on campus.
"It was amazing to feel the support back then from all the people, especially the professors. They were all very approachable. Whenever I had an issue or a problem, everyone was super helpful," Stelmah said.
She wants the BSU community to understand why Ukraine is fighting back against the Russians.
"Freedom is our number one priority," she said.
Ukraine does not need to be "saved', Stelmah said, which runs counter to what Russian President Vladimir Putin has publicly stated.
"The truth is, the majority of Ukrainians are trying to build a vibrant democracy," she said.
So how can the BSU community help?
"The simplest way to support Ukraine is to gather information and share what is really happening," Stelmah said. "Russia is giving a very different picture, but if people can share information that is correct, on the news or even social media…our voices are important. When the majority of people want to change something, we can."
In a show of support, BSU has displayed the Ukrainian flag above the steps of Boyden Hall. On the evening of March 2, Boyden was also lit up in blue and yellow, Ukraine's national colors.
"Bridgewater State University stands in solidarity with Ukraine and its brave and patriotic citizens in defense of freedom," said President Frederick W. Clark, Jr.
Stelmah is grateful for the support and more than anything wants people to know her country, and the people who live there, are "strong" and will not back down.
"We love our friends and are happy to accept all the support we can get. We need every single person to support us, that's the only way we can fight this," she said. "Right now this crisis unites us. I'm very proud of my country and the nation we are trying to build."
Do you have a BSU story you'd like to share? Email stories@bridgew.edu