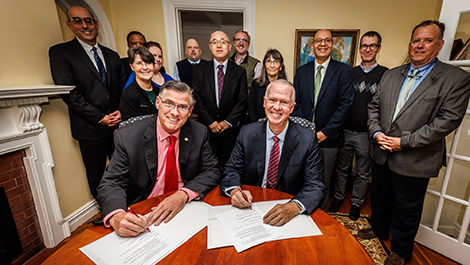 This is an excellent program with a focus on public service and regional needs. Both institutions really want to give students the most affordable path to achieve their academic goals.
Dr. Arnaa Alcon, dean of humanities and social sciences
Thanks to a new accelerated degree program, students interested in pursuing a law degree can now do so through a unique program offered at Bridgewater State University.
BSU is able to do this through a partnership with UMass Law.
Members of both institutions came to the Bridgewater campus on Oct. 21 to officially sign the agreement for a 3+3 program that gives students the opportunity to earn their undergraduate degree and a law degree in six years rather than seven.
The document was signed by BSU President Frederick W. Clark Jr, Chairperson of the BSU Board of Trustees Dr. Jean MacCormack, and UMass Dartmouth and UMass Law Chancellor Dr. Mark Fuller.
Others in attendance included UMass Law Dean Eric Mitnick, and BSU Dean of Humanities and Social Sciences Dr. Arnaa Alcon.
"It's so beneficial for our students because this gives them a pathway to this important graduate degree, it saves them an entire year of work and tuition and everything that goes along with that," Alcon said.
After passing through governance, the program was made available to students this fall.
The 3+3 program is open to academically qualified undergraduate students who are committed to pursuing a law degree at UMass Law.
Program options at BSU include the Bachelor of Science in criminal justice and Bachelor of Arts in English, history, philosophy, or political science.
Once participants complete the first three years of their undergraduate studies, in their fourth year they matriculate to UMass Law as full-time first-year law students where they can earn credit towards completion of the undergraduate degree by completing their first-year law courses.
"New students started and enrolled in September but even (current) students who are further along and are on track to complete their majors in three years, they could also think about it," Alcon said. 
Completion of the program will yield a baccalaureate degree from BSU as well as a juris doctor from UMass Law.
Members from both institutions are excited about the partnership and ability to offer this option to students.
"I am thrilled to be able to establish this partnership with Bridgewater State to give students more opportunities to enter the legal profession," Mitnick said. "As the only public law school in the Commonwealth, it is core to our mission to serve our communities. This collaboration will strengthen future access to legal services in Southeastern Massachusetts."
Alcon said the most important aspect of the shared mission is that this helps serve the region by producing lawyers interested in public service that are committed to the area.
"This is an excellent program with a focus on public service and regional needs," she said. "Both institutions really want to give students the most affordable path to achieve their academic goals."
Do you have a BSU story you'd like to share? Email stories@bridgew.edu