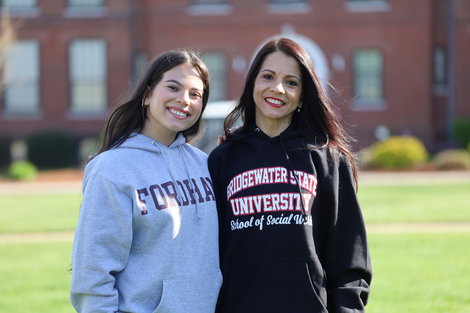 Transferring was a very easy process and when I got to Bridgewater, I loved it. All of the professors were really good and supportive.
One day, while driving past Cape Cod Community College, a thought popped into Viviane Almeida's head.  
"Maybe I can take some classes," she said to herself.  
Little did she know that eventually this decision would result in her walking across the stage at Gillette Stadium earlier this month to collect a degree in social work from Bridgewater State University at the age of 50. 
Originally from Brazil, Almeida studied psychology in her homeland before moving to the United States. After her daughter Izabella was born, she devoted all her efforts to being a stay-at-home mom and helping others. 
"She is my only child and I volunteered for everything, I was very involved," she said.  
When Izabella went off to study at Fordham University, Almeida found herself, well, bored.  
So when the idea to take classes came to her, instead of dismissing it, she immediately turned the car onto campus and enrolled that very day.  
"I didn't even tell my family at first," Almeida said.  
When she did share the news, Izabella was thrilled.  
"She was so excited and proud to tell everyone that I was in college. Four years later, I got to graduate right with her," Almeida said.  
Even more impressive is that when she re-started her college career, Almeida spoke very little English, but didn't let that deter her, she wanted set a good example for her daughter.  
"I wanted to show her, if you want to do something, you can do it," Almeida said.  
And show her, she did. 
After earning her degree, Almeida wasn't done with her education and took advantage of the transfer program that BSU offers. This fall, she will begin pursuing a master's degree in social work.  
"Transferring was a very easy process and when I got to Bridgewater, I loved it. All of the professors were really good and supportive," she said. "I'm coming back to get my master's at Bridgewater because since day one everyone welcomed me. I always got help with anything I needed. I didn't apply to any other school because I love BSU," she said.  
Almeida plans to use her education to advocate for others, specifically high school students who struggle with English.  
During her internship at Falmouth High School, she worked with more than 90 students who only spoke Portuguese and Spanish. The experience revealed her passion for helping this group of learners.  
"For teenagers who don't speak English, they tend to get excluded in school as their peers don't have the same level of patience to socialize with them. That exclusion is bad, and they lose motivation," Almeida said. "I want to be in a role to support them, to be someone who can assist them." 
She looks forward to being back on campus this fall to continue her education once again.
"Going back to school, I feel, has added 10 years on my life," she said. "My only regret I that I didn't re-start sooner because I could have been helping people...but I try not to think about that, I just want to do it." 
Do you have a BSU story you'd like to share? Email stories@bridgew.edu