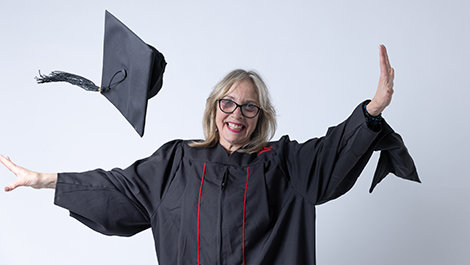 I always want to be a lifelong learner, I always want to set another goal for myself.
When Lesly Freed, G'22, last crossed a commencement stage, Richard Nixon was president, "American Pie" and "Lean on Me" were among the songs that topped the Billboard charts, and a gallon of gas cost just 36 cents.
Fifty years after her undergraduate graduation, Lesly will again proudly wear a cap and gown, a testament to the fact that it is never too late to further one's education.
"I always want to be a lifelong learner," said Lesly, who is earning a master's degree in teaching English to speakers of other languages (TESOL) at Bridgewater State University. "I always want to set another goal for myself."
Lesly, who received an undergraduate degree in sociology from Boston University, has held music, office support, writing and education positions. Living in the multicultural community of Randolph, Lesly became interested in serving its diverse populace. She has worked in K-12 and adult education for the past decade, primarily teaching English as a second language.
Much of her TESOL knowledge was gained informally on the job, however, Lesly craved a degree in the field.
"The program at Bridgewater was terrific," said Lesly, who appreciated interactions with her classmates and professors. "They helped me explore questions I didn't even know I had. … I loved every minute of it."
Through BSU courses, she expanded her knowledge of lesson structure and planning, strategies for teaching a second language, and the history of language.
"She was a pleasure to work with, a lovely person," said Dr. Yulia Stakhnevich, a TESOL professor. "She was very smart and very generous with her time to help other students review their work. That's very valuable when students can have a community of learners."
Lesly, who aspires to work with college students or advanced English learners, encourages others to return to school.
"I just think it's wonderful for the soul," she said. "Maybe you'll find another passion to work on. Try to experience as much as you possibly can. Keep your eyes, ears and mind open."
When she crosses the commencement stage on June 24, Don McLean's music probably won't be blaring from the Gillette Stadium speakers. But Lesly will have the support of 14 wildly cheering family members and friends, including her college roommates from 50 years ago.
"I'm delighted," she said. "I'm thrilled."
Do you have a BSU story you'd like to share? Email stories@bridgew.edu.