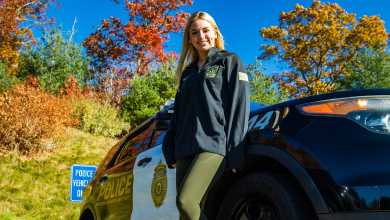 I really want to humanize the badge, to make sure people are aware that the police department is on campus and it's okay to ask them for advice.
It didn't take long for Sarah Carlozzi, '24, to feel confident she'd made the right decision transferring to Bridgewater State University.  
"At my other school I tried my best to get my foot in the door, but nothing ever really happened. No one reached out," she said. "But here I feel so welcomed. I didn't expect that, to feel like I'm at home." 
One thing that has struck the criminal justice major is all BSU offers.  
"There are a lot more opportunities here than people realize," she said.  
One of those opportunities is her internship with the Bridgewater State University police department (BSUPD).  
"I wanted to intern with the BSUPD because I want to pursue a career in law enforcement." Sarah said. "I love connecting with the community and I wanted to become familiar with the field."
Under the guidance of BSUPD Captain Ryan Tepper, the aspiring police officer is getting hands-on experience, learning what it takes to work in law enforcement.  
"Captain Tepper has set specific goals for this internship, which is to get me comfortable working in this profession, to get me ready for the police academy," Sarah said. "He's teaching me everything I need to know to become a successful police officer.' 
Sarah's main role is working community relations for Tepper and Zach, the department's K-9.  
Zach is a dual-purpose K-9 trained not only to sniff out explosive material, but also serves as a community resource dog.   
Among other things, Sarah manages Zach's social media pages, creates videos, and oversees his social calendar.  
"We're meeting so many different people on campus," she said. 
The goal is to create as many opportunities as possible for campus members to meet Zach and Tepper, so they can foster better relationships with the BSU community.  
"People often see police officers as some sort of government group that's against them, but police are really there to help, to give a helping hand," Sarah said. "(Police) are people too…just like the professors at BSU, police are here to do a job and support all the students on campus." 
After working with Tepper and Zach, Sarah plans to pursue a career as a K-9 handler herself, specifically to identify illegal drugs and substances.  
"My uncle died from a heroin overdose, so I'm inspired to work with K-9s that can help take drugs out of communities. I want to work and try to fix the drug problem we have," she said. 
For now, Sarah will continue to learn all she can through her internship and help spread awareness about the BSUPD. 
"I really want to humanize the badge, to make sure people are aware that the police department is on campus and it's okay to ask them for advice," she said. "Don't hesitate to reach out. They are amazing people. I didn't know what to expect going into my internship, but I really like it and feel as though I'm part of a family." 
Do you have a BSU story you'd like to share? Email stories@bridgew.edu