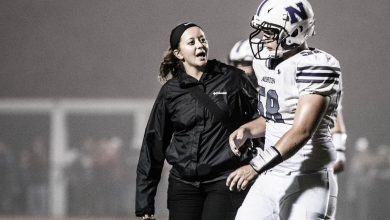 Bridgewater has a really good athletic training program, but also, Bridgewater is a great school. Everybody feels like family there
Kathryn 'Kat" Sevigny, '20
Kathryn 'Kat" Sevigny, '20, went into athletic training because she wanted to help people. Only two years into her career she got her chance, when she used her skills to help in the most profound way -- saving a man's life.
"It was crazy, thank goodness I had extra hands helping me out," the Fairhaven native said. "I didn't expect I'd be doing something like this so soon in my career."
After graduating from Bridgewater State University with a degree in athletic training, Sevigny was hired to work at Norton High School where she serves as the head athletic trainer.
On November 5, at the conclusion of the Norton High School football game, she heard her name being called.
"I was packing up my equipment and heading to the end zone to check on the athletes," Sevigny said. "I turned around and saw a man lying on the ground."
Sevigny went into action. After checking and finding no pulse, she rolled the man onto his back and began performing CPR and called out for someone to get the AED defibrillator cart.
An off-duty nurse and Franklin paramedic happened to be at the game and helped Sevigny cut off the man's shirt in order to use the defibrillator. Their efforts paid off.
"By the time the EMS got there, he was talking," Sevigny said.
The event is something she will never forget, and one she hopes never to have to repeat.
When processing all that happened, Sevigny reached out to her former BSU professor, Dr. Philip Szlosek, to put it into perspective.
"After the incident I called him, I needed to talk it out," Sevigny admitted. "He was always a great professor, whenever I needed help or didn't understand something he always took the extra time to help me, which is why I still reach out to him."
She also credits BSU's athletic training program for helping her have confidence, not just during an emergency, but overall.
"Bridgewater has a really good athletic training program, but also, Bridgewater is a great school. Everybody feels like family there. Even now, after this incident, I was able to reach out and get support," Sevigny said.
Being able to live out her dream and to be in a position where she can help others, means this BSU alumna is grateful for all she gained while an undergraduate. She encourages others considering a career in athletic training to consider her alma mater.
"It's an amazing career, if you do pursue it, make sure you get mentors in place and keep in touch with them. We all need support," Sevigny said.
Do you have a BSU story you'd like to share? Email stories@bridgew.edu