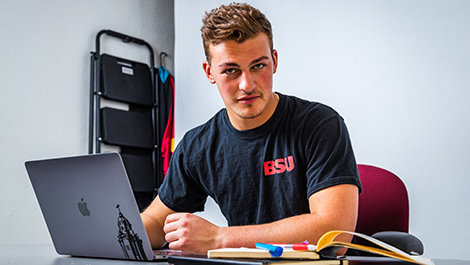 Being at Bridgewater State University has allowed me to make a lot more connections. This school has a great community.
Ryan Kuczer, '23, discovered his love of working in cybersecurity as a Bridgewater State University student. Participating in a semester-long mentorship program is helping him see a future in the rapidly expanding field.
The program, run by the MassTech Collaborative, connects promising students with cybersecurity professionals. Ryan is paired with Ethan Ben-Joseph, security services manager at the information security company CyberArk.
"I wanted to do that so I could get a relevant experience in the cybersecurity field," said Ryan, a computer science major and math minor from Douglas. "We discuss my future and what I can do to get ahead in the field."
Ryan came to BSU as an aviation major but found his passion in the computer labs. His father works in information technology and narrowly avoided becoming an identity fraud victim. Seeing that experience personalized the field for Ryan, who hopes to pursue a graduate certificate in cybersecurity.
The certificate is part of BSU's growing cybersecurity offerings. The university is developing a state-of-the-art cyber range that will allow students and professionals to test their skills by facing realistic simulations of attacks. Those efforts come as the U.S. Bureau of Labor Statistics projects the number of information security analysts will grow 33 percent between 2020 and 2030.
Dr. Enping Li, an associate professor of computer science, recommended Ryan for the mentorship program because of his academic success.
"He's well engaged in the class and has been very active in answering questions," she said. "He's a smart, responsible, diligent student."
Ryan appreciated how Li and other professors teach skills that are relevant to their students' future careers and truly care about their success, he said.
"They're not just trying to get a grade out of you," he said. "The teachers are more involved and actually want you to learn."
Ryan has also relied on Career Services for help crafting a resume.
"Being at Bridgewater State University has allowed me to make a lot more connections," he said. "This school has a great community."
Ryan is the third BSU student to participate in the mentorship program, which is an excellent complement to a Bridgewater education, Li said.
"I think this is a great opportunity for students to apply what they learn in the classroom," Li said. "They get to see how the practice is applied in the field."
Through the program, Ryan is studying cybersecurity vulnerabilities in automobiles. While many people might not associate cars with cyberthreats, Ryan knows the pervasiveness of technology means threats can crop up anywhere.
"You can pretty much link cybersecurity to anything you touch in life," said Ryan, who will present his project at an event with all 41 mentor-mentee pairs. "Pretty much everything you do is linked to the internet."
Do you have a BSU story you'd like to share? Email stories@bridgew.edu.