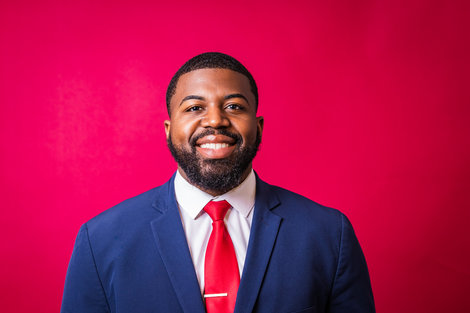 I feel like Bridgewater helped me prepare for my future and I want to give back.
It's no surprise to Carol Crosby that Joshua Joseph, '22, was recently selected as one of the 29 Who Shine, a program sponsored by the Massachusetts Department of Higher Education, which each year recognizes 29 outstanding graduates from the public higher education system.  
"It has been so exciting to see Josh's confidence grow in the past two years," Crosby said. "He has worked hard to take advantage of all the opportunities BSU has shared with him, and it has served him well." 
Crosby is the assistant director of the Bridgewater State University internship program office, and when Joshua initially contacted her in 2020 to apply for an international virtual internship pilot program, he initially was not a top candidate. 
"My GPA wasn't great, I was struggling," he admits. 
However, Crosby saw his potential.  
"There was something about Josh that I noticed at our first appointment. He was quiet and did not say much during our discussion but somehow came across as very determined," Crosby said. She ultimately recommended him for the internship.  
Joshua and only three other students were selected to participate, and together they completed an online finance program based out of Buenos Aires.  
"As he navigated the internship, I continued to see that determination and quiet steadiness shine through," Crosby said.   
The experienced served as a catalyst for Joshua. 
"It helped build my character and move me forward in a way that I know if I push myself, value myself...I can achieve what I want to achieve," he said.  
Since then, the rising professional has gone on to build an impressive resume, all before he graduates this fall with degrees in finance and economics as well as a minor in management.  
In 2020, Joshua led the charge to launch the Bridgewater Collegiate Investors, a student-run equity investment fund. 
Two years later there are 20 members in the group who manage a $1 million stock portfolio. Their research is presented twice a semester to members of the BSU Foundation Board.  
As founder of the Bridgewater Collegiate Investors, Joshua has enjoyed serving as a mentor as others have for him. 
He's received guidance from at least two members of the BSU Foundation: First Vice Chair David Rumrill, '91, who works as an executive director at JP Morgan in Boston, and Louis Ricciardi, '81, membership committee chair and vice chair of the investment committee. 
"Both have given me opportunities to grow, network and learn," Joshua said.   
He also served as treasurer for the Theta Zeta Chapter of Sigma Chi Fraternity and for the BSU Student Government.  
This year, he was selected to attend the competitive 2022 Goldman Sachs Black Possibilities Summit and when he transitions to alumnus, Joshua hopes to serve on BSU's Louis M. Ricciardi College of Business Advisory Board.  
"I feel like Bridgewater helped me prepare for my future and I want to give back," he said.  
Do you have a BSU story you'd like to share? Email stories@bridgew.edu