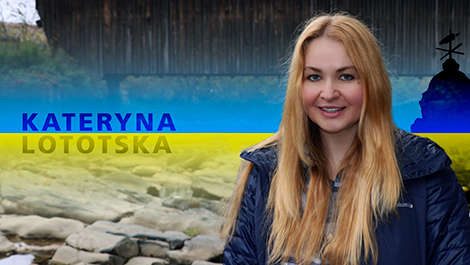 The support I found is completely different. I felt more welcomed here.
Kateryna Lototska, '22, on being a BSU student
When Russia attacked her native Ukraine, Kateryna Lototska, '22, considered dropping out of her Bridgewater State University classes. She was more concerned for the safety of friends and family back home, as well as her country's future, than she was her coursework.
"All of those horrible things you see on the news, it was happening all around them," said Kateryna, whose mom continues to live outside Kyiv.
But Kateryna finished the semester – and her degree in Spanish – thanks to the caring Bridgewater State University community. Global Languages professors Ryan LaBrozzi, José Lara, and Fernanda Ferreira showed compassion while helping her cope with the tragedy unfolding in her homeland.
"They have been amazing," said Kateryna, who minored in Asian Studies and took Japanese language classes. "I felt supported."
Dr. Lara, who taught Kateryna in Culture and Politics of Latin American Music and Dance, praised her maturity and commitment to her studies.
"She's extremely passionate, whether about her country or her ideas," he said. "She persevered in a very difficult situation."
Kateryna moved to the U.S. in 2007, becoming a citizen in 2019. She started at Cape Cod Community College, where advisers recommended she go on to earn a bachelor's degree.
"I was just motivated," said Kateryna, 41, who juggled classes and two jobs. "I'm an immigrant, so we usually can't get the jobs Americans can because we're undereducated."  
Initially considering a different university that didn't feel like home to her, Kateryna ultimately embraced BSU, where she felt valued as an individual.
"The support I found is completely different," she said. "I felt more welcomed here."
That continued during the Russian invasion as BSU flew the Ukrainian flag prominently on Boyden Hall – a gesture Kateryna said was "huge" for her.
In Lara's class, she drew connections between the war and Latin American politics. Providing that opportunity for dialogue is an important way of helping a student facing a crisis, Lara said.
"We as professors need to take a more holistic approach to the student," he said. "It's not just the academics, but their emotional and psychological well-being."
In addition to her studies, Kateryna regularly appears on iHeartRadio's Pat Desmaris Show to offer perspective on the war and dispel myths.
She fundraises for supplies and housing for refugees escaping Ukraine. She sold lawn signs and stickers with Ukrainian symbols at Food Port International Market, an Eastern European grocery store in Hyannis, where she works.
"It's a network and I think this is the best way to do it," she said, praising a donation from BSU to the cause. "That's what Ukrainians do. We just learn to help each other out."
After crossing the commencement stage, Kateryna plans to visit Ukraine to see the effects of war. Once back in the U.S., she aims to seek a government job to make her mark on the world.
"What's happening in Ukraine is going to reshape the whole world landscape," she said. "This is the 21st century in the middle of Europe. There's no way this should have happened. Change has got to be made."
Do you have a BSU story you'd like to share? Email stories@bridgew.edu.