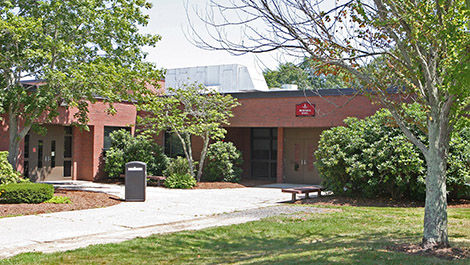 Story Series
Behind the Name
Preparing future educators has been central to Bridgewater State's mission since its founding in 1840. And Martha Burnell played a key role in shaping generations of teachers by leading the on-campus grammar school that provided them with key training. 
While the grammar school is no longer active, Burnell's legacy lives on as hands-on learning remains a hallmark of a BSU education degree. Today, students complete student teaching in schools across southeastern Massachusetts and around the world. 
Named For
Martha Burnell 
The Backstory
Burnell, a member of Bridgewater Normal School's Class of 1894, was principal of the training/model school from 1918 to 1938. The grammar school began in 1895 to provide hands-on learning opportunities for Bridgewater education students. 
Burnell was a teacher in the school before becoming its leader. She previously attended Gorham Normal School in Maine. She first taught in Gorham before moving to a rural New Hampshire school and one in the state's capital, Concord. 
She became principal of the model school at a time when women rarely led grammar schools.  
 The training school was housed in several buildings over its lifespan, including today's Harrington Hall (1926-1979), which was constructed after a 1924 fire destroyed much of the campus. Harrington Hall was at one point called the Martha M. Burnell Campus School. The current Burnell Hall opened in 1979. 
When the training school closed in 2008, then-President Dana Mohler-Faria said: "It has a long, deep, rich history and attachment to this college and to this town … The spirit that exists in that school, what we have been able to do in that school in this town, will continue to make a tremendous difference." 
Use Today
Burnell Hall, located on the east campus on Hooper Street, houses classrooms, dance and music rehearsal space, and the Speech Language Literacy Center. With significant state support, a forthcoming major renovation of the hall will create a home for the College of Education and Health Sciences. 
Material in this article comes from Not to be Ministered Unto, But to Minister: Bridgewater State University, 1840-2010 by Dr. Thomas R. Turner.